| | | | | |
| --- | --- | --- | --- | --- |
| | | Celebrating 50 Years in Showbusiness | | |
2016
Con & Dec wish you a Happy and Prosperous New Year

REVIEW DECEMBER 2015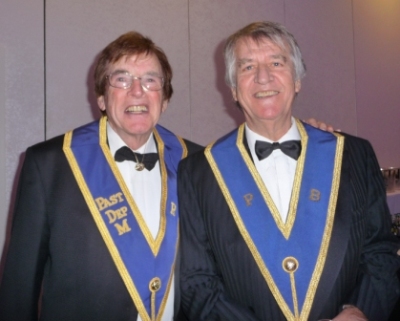 Our Friend Ed 'Stewpot' Stewart had a stroke and died three days later. Ed was famous for his wit as a DJ and for his long stint on Crackerjack
REVIEW January 2016
REVIEW FEBRUARY 2016
NOT TO BE MISSED:
Bachelors .... 'Muintir Mhic Bhloscaigh' – The Documentary - 20th March. Irish TV Channel TG4 at 10pm. SKY channel 163 and you will also be able to view it on TG4 online It will be repeated at 8pm on 24th March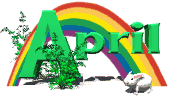 REVIEW MARCH 2016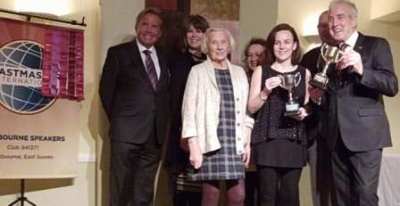 "Dec wins the latest heat of the World Championship of Public Speaking"
REVIEW APRIL, 2016
| | |
| --- | --- |
| Dec and his wife Sandy enjoyed a week in Corfu where they spent time with their daughter Victoria, who was performing there. | Con & Dec entertained Kathy Brown and 50 of her friends and relatives at her 65th Birthday Party. |
Blast From The Past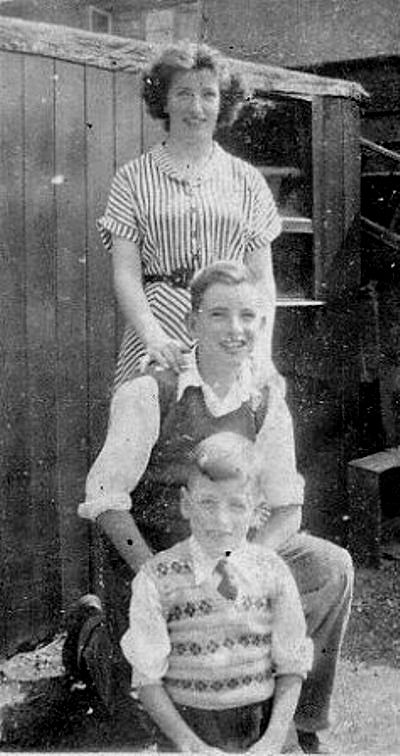 Con & Dec with sister Brenda in their back garden in Dublin in front of the Hen House where they kept chickens.
The hens kept them supplied with eggs, and on occasions, when they could stand it, their father killed one of the hens for dinner!
Dec and Con can still smell the blood!!!!
>>>>>>>>>>>>>>>>>>>> <<<<<<<<<<<<<<<<<<<<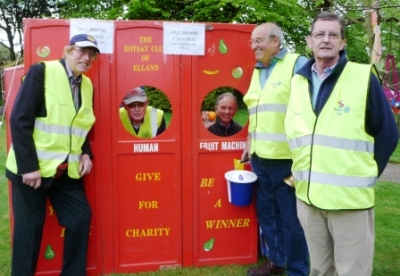 Con, on the left, with High Viz Jacket was helping to raise money for Overgate Hospice in Elland
He and his fellow Rotarians were operating their Human Fruit Machine and raised several hundred pounds for a good cause
With 3 goes for a pound the contestant rang a bell whereupon the members would hold up a piece of fruit.
If there were 3 matching fruit the contestant won, if not they got a lollipop!

REVIEW MAY, 2016
A GREAT NIGHT IN DOVER

We had a great night in Dover with the Rotary Club there, first with a great meal and then a full concert in the Nye Hall at the Duke of York's Royal Military School. They managed to raise £10,400 on the night. We were pictured with President Roger Walton and the District Governor Ray Dixon in their chains of office. The only drawback was the journey there and back, with a 15 minute holdup on the M1 and a 25 minute holdup on the M25. Got to bed at 6.30am.......

OH the Glamour of Showbusiness!!!!!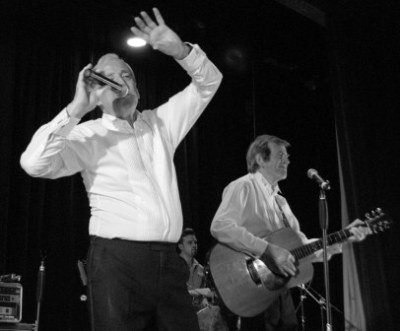 Blast From The Past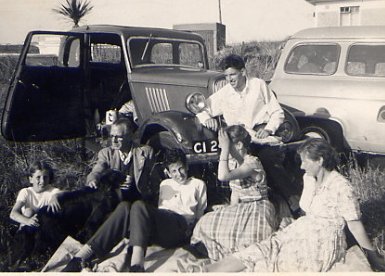 Con & Dec with their Mum & Dad and two cousins on a camping holiday in Ireland.
They toured Ireland every year in their reliable old Ford Y Model with their tent strapped to the roof.
Happy Days!!
>>>>>>>>>>>>>>>>>>>> <<<<<<<<<<<<<<<<<<<<<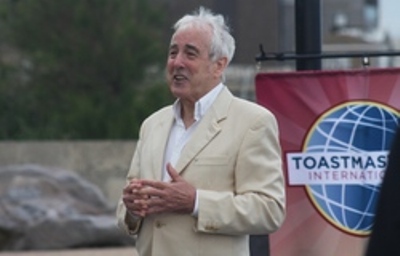 Worthing by the sea.
Dec takes charge at an outdoor Toastmasters meeting with the Lord Mayor, the Town Crier and lots of friends [and the public]"

REVIEW JUNE, 2016
Blast From The Past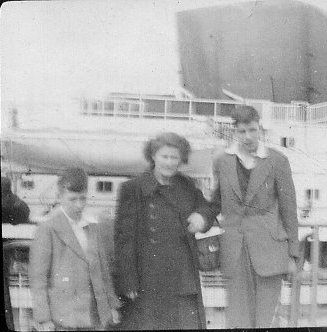 Dec & Con with their mum in Southampton waving their sister Brenda off as she set sail for Kuala Lumpar to get married
Princes Trust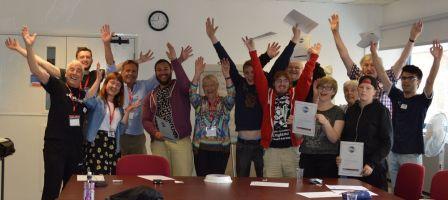 "Dec presenting his Speaking Workshops to Princes Trust attendees at Lewes, East Sussex"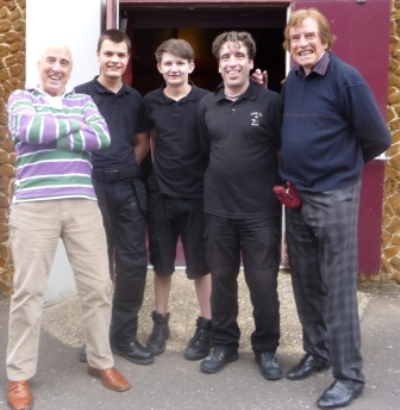 Con & Dec with the crew of The Princess Theatre in Hunstanton after a fantastic afternoon show.
It took Dec 7 hours to travel from Eastbourne to do the show due to a crash on the M25, and he missed the first half of the show!!
Luckily Con was able to do the first half on his own!!!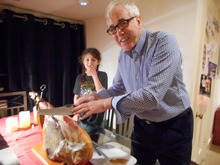 "Dec loves Spanish 'Hamon Iberico'... how long will it take to eat this whole joint?"
Batley Variety Club Closes Down
Con & Dec laid the foundation stone for Batley Variety Club and did the opening weeks cabaret there. They appeared there many times to packed audiences.

REVIEW JULY, 2016
Con in Dublin
| | | |
| --- | --- | --- |
| Celebrating Bert Cotter's Birthday with Fr. Paul Byrne and Edna Cotter | One of the sights of Dublin. The 'Pole in the Hole' on the left and a building celebrating the centenary of the 1916 Easter Uprising. | Con played golf at Newlands Golf Club with old friends Jos Coogan, Bert Cotter and Jimmy. A very enjoyable day talking about childhood memories. |
REVIEW AUGUST, 2016
>>>>>>>>>>>>>>>>>>>> <<<<<<<<<<<<<<<<<<<<<
REVIEW SEPTEMBER, 2016
>>>>>>>>>>>>>>>>>>>> <<<<<<<<<<<<<<<<<<<<<
REVIEW OCTOBER, 2016
Portrait of 'Felix' The Cat
Dec Mentors Prince's Trust Group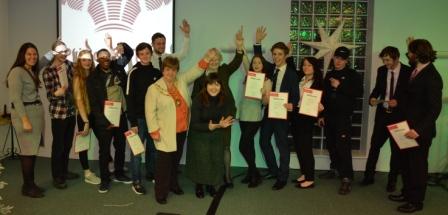 Princes Trust Team 17 on their final presentation day with Mayor of Eastbourne and the Lady Lieutenant
REVIEW NOVEMBER, 2016
Con dressed as Santa Claus on the Elland Rotary Sleigh collecting money for Rotary Charities. Nearly £4,000 raised.......

A worthwhile effort.


Watch out --- There are 'Lookalikes' About.
Illegal Tributes using the name 'The Bachelors'
If it's Not Con & Dec, it's NOT The Bachelors!!
Check before you book your tickets!
DISCLAIMER: Please note that this is a historical site for reference only. This site does not purport to be a promotion of Dec Cluskey and Con Cluskey as 'The Bachelors'. Con and Dec [who recorded every Bachelors record)