The Bachelors History 1962 1963 1964 1965 1966 1967 It Becomes a Blur! 1984 1985 1986 1993 2000 2001 2002 2003 2004 2005 2006 2007 2008 2009 2010 2011 2012 2013 2014 2015 2016 2017 2018 2019 2020 2021 2022 2023
PLEASE BE PATIENT - THERE ARE AN ENORMOUS AMOUNT OF VIDEOS TO LOAD UP,
SO MAY TAKE LONGER THAN NORMAL ... WORTH THE MINUTE'S WAIT?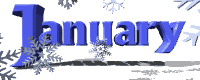 REVIEW of DECEMBER 2015
A BAD START TO THE YEAR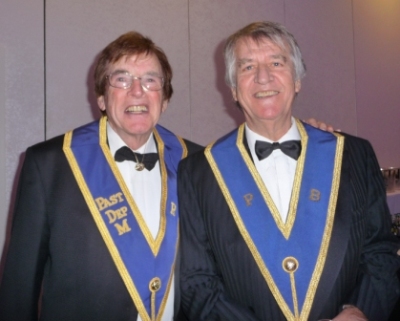 Our Friend Ed 'Stewpot' Stewart
had a stroke and died three days later. Ed was famous
for his wit as a DJ and for his long stint on Crackerjack
Con had the pleasure of organising 'Mock Interviews' for some of the pupils at his local Brooksbank School as part of Elland Rotary Club's yearly Programme. In all 21 students requested to be interviewed. In this session Con was joined by Rotarian Allan Jagger OBE, Past President of Rotary in Great Britain & Ireland.

Mock Interview

A programme where individual Rotarians and others provide a short interview experience for young people in schools, typically in Year 10 (4thYear) age 14‐15. This is often the first experience a student has of meeting and having a typical 10 minute conversation with an unknown adult. The benefit to the individual's self‐confidence and esteem as a result of this short experience is usually significant. The Programme is often structured around development of CVs and writing a letter of application.
REVIEW January 2016
| | | |
| --- | --- | --- |
| | Daryl Morton, Michael Cluskey and Con went to Elland Rotary's Valentines Ball with his son Michael and friend Rotarian Daryl Morton. Con's son Phillip was providing the music with his girlfriend Roni Hart, known as 'Little and Often'. The night was a huge success and raised £3,000 for The Yorkshire Air Ambulance and Royal Air Forces Association. | |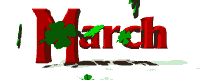 REVIEW FEBRUARY 2016
NOT TO BE MISSED
Bachelors .... 'Muintir Mhic Bhloscaigh' – The Documentary -
20th March. Irish TV Channel TG4 at 10pm. SKY channel 163
and you will also be able to view it on TG4 online
It will be repeated at 8pm on 24th March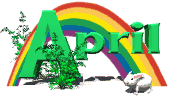 REVIEW MARCH 2016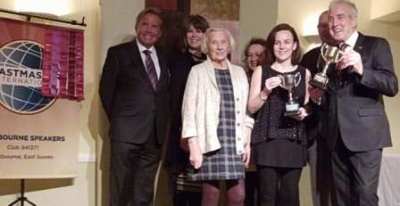 Dec wins the latest heat of the World Championship of Public Speaking
BLAST FROM THE PAST

Dec and Con in Chester with Daddy Cluskey and Aunt Molly
plus their cousin Jean.
Dec loved flying model aeroplanes.
And he wore his O'Connell School Blazer
with pride .... everywhere!

Dec accepts yet another award for Public Speaking ...
this time from Toastmasters International in the USA.
REVIEW APRIL, 2016
Dec and his wife Sandy enjoyed a week
in Corfu where they spent time with their daughter Victoria,
who was performing there.

Con & Dec entertained Kathy Brown and 50
of her friends and relatives
at her 65th Birthday Party.
Blast From The Past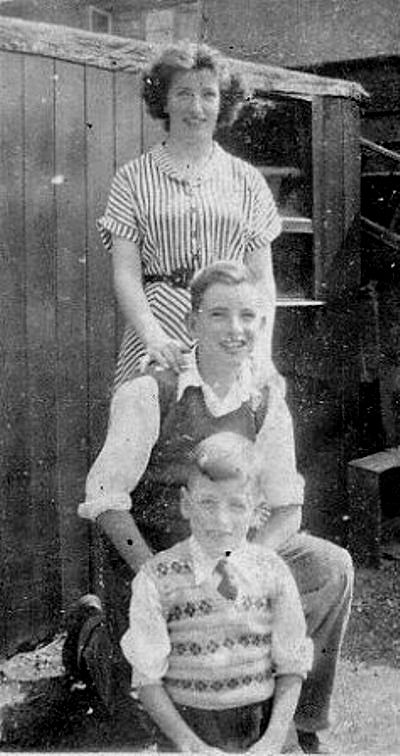 Con & Dec with sister Brenda
in their back garden in Dublin
in front of the Hen House
where they kept chickens.
The hens kept them supplied with eggs,
and on occasions, when they could stand it,
their father killed one of the hens for dinner!
Dec and Con can still smell the blood!!!!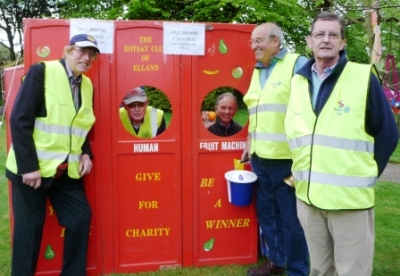 >
Con, on the left, with High Viz Jacket was helping
to raise money for Overgate Hospice in Elland
He and his fellow Rotarians
were operating their Human Fruit Machine
and raised several hundred pounds for a good cause
With 3 goes for a pound the contestant rang a bell whereupon the members would hold up a piece of fruit.
If there were 3 matching fruit the contestant won, if not they got a lollipop!

REVIEW of MAY 2016
A GREAT NIGHT IN DOVER

We had a great night in Dover with the Rotary Club there,
first with a great meal and then a full concert in the Nye Hall
at the Duke of York's Royal Military School.
They managed to raise £10,400 on the night.
We were pictured with President Roger Walton
and the District Governor Ray Dixon in their chains of office.
he only drawback was the journey there and back, with a 15 minute holdup on the M1
and a 25 minute holdup on the M25.
Got to bed at 6.30am.......

OH the Glamour of Showbusiness!!!!!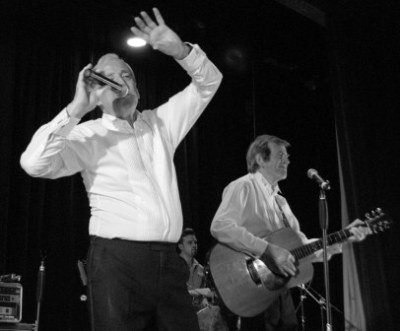 Blast From The Past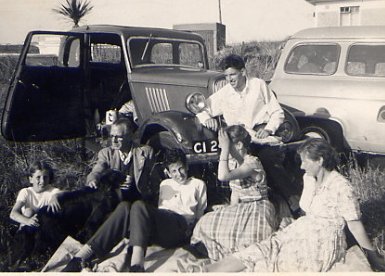 Con & Dec with their Mum & Dad and two cousins
on a camping holiday in Ireland.
They toured Ireland every year
in their reliable old Ford Y Model
with their tent strapped to the roof.
Happy Days!!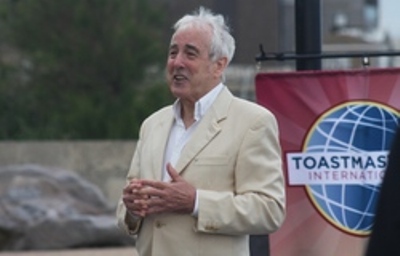 Worthing by the sea.
Dec takes charge at an outdoor Toastmasters meeting with
the Lord Mayor, the Town Crier and lots of friends [and the public]"
Con with Ian and Diane Park, two of the
organisers of the Haworth 60's 2 day Festival
which Con officially opened on Saturday 25th June.

REVIEW of JUNE 2016
Blast From The Past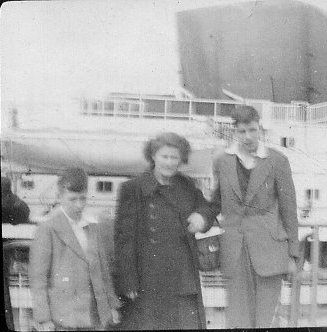 Dec & Con with their mum in Southampton
waving their sister Brenda off
as she set sail for Kuala Lumpar
to get married
Princes Trust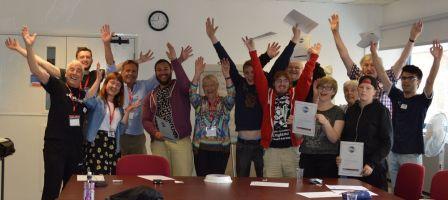 Dec presenting his Speaking Workshops
to Princes Trust attendees
at Lewes, East Sussex"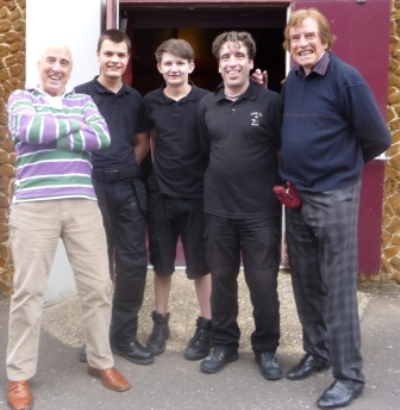 Con & Dec with the crew of The Princess Theatre
in Hunstanton after a fantastic afternoon show.
It took Dec 7 hours to travel from Eastbourne
to do the show due to a crash on the M25,
and he missed the first half of the show!!
Luckily Con was able to do the first half on his own!!!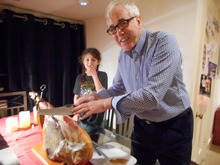 "Dec loves Spanish 'Jamon Iberico'...
how long will it take to eat this whole joint?"
Batley Variety Club Closes Down
Con & Dec laid the foundation stone for Batley Variety Club
and played the opening weeks cabaret there.
They appeared there many times to packed audiences.
Bernie Clifton and Con outside
Batley Variety Club reminiscing
about the glory days of the club

Bernie Clifton shows Con how to do the 'Biscuit Tin Dance'
which he invented on this very stage.

Bernie Clifton, Steve Todd (Manager)
Ian White (BBC) and Con prior
to filming for BBC News on which
they discussed the closing down
of The Frontier, formerly Batley Variety Club

REVIEW of JULY 2016
Con in Dublin
Celebrating Bert Cotter's Birthday
with Fr. Paul Byrne and Edna Cotter

One of the sights of Dublin.
The 'Pole in the Hole' on the left and a building
celebrating the centenary of the
1916 Easter Uprising.

Con played golf at Newlands Golf Club
with old friends Jos Coogan, Bert Cotter
and Jimmy. A very enjoyable day
talking about childhood memories.
REVIEW of AUGUST 2016
REVIEW of SEPTEMBER 2016
REVIEW of OCTOBER 2016
Dec's son Oliver celebrated the re-licensing
of his Aldershot venue 'The Funky End'.
Dec here with the incredible DJ Judge Jules.
What a night?

Con shared a VIP settee at a UB40 concert
in Liverpool with his son Phillip
and his girlfriend Roni also known as 'Little and Often'.
After the concert, they attended a Champagne Party
backstage with Robin from UB0
and some of the band. A great night out!!!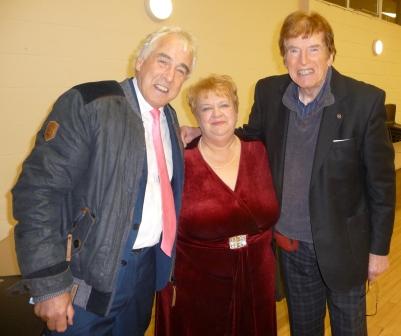 Dec & Con with concert organiser Julie Higgins.
Julie organised for the boys to appear at
Risby Village Hall on behalf of Risby Women's Institute,
where they gave a great talk about
their career and also sang some
of their favourite hit songs acoustically
Portrait of 'Felix' The Cat
Deputy Lord Mayor Christine Iredale,
Con, Phillip, Roni, Station Manager,
Rob Martin the painter.

Con went to Huddersfield Railway Station
as the Deputy Lord Mayor Christine Iredale
unveiled the portrait of 'Felix The Station Cat'
painted by Rob Martin. The frame was
specially hand made by Con's son Phillip
and his girlfriend Roni who perform as
'Little and Often'. The cat is dressed in a 'Bronte Style'
dress to commemorate the 200th anniversary
of the Bronte Sisters.

The portrait hangs in the entrance hall of
the station in a prominent position
and is admired by all who pass by.
Check it out!!

The Plaque
Dec Mentors Prince's Trust Group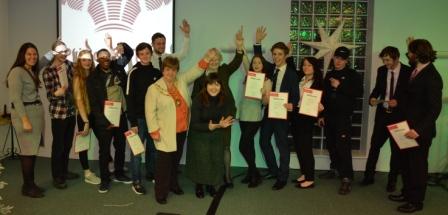 Princes Trust Team 17 on their final presentation
day with Mayor of Eastbourne and the Lady Lieutenant
REVIEW NOVEMBER, 2016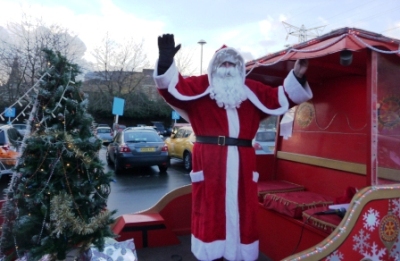 Con dressed as Santa Claus on the
Elland Rotary Sleigh collecting money
for Rotary Charities.
Nearly £4,000 raised
A worthwhile effort.