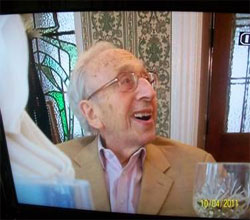 Philip Solomon - at lunch with Dec, Sandy, Victoria and Dorothy shortly before he passed away.
Sad news yesterday morning that Philip Solomon died in Bournemouth … very distressing as Sandy, Victoria and I had been visiting him regularly to keep his spirits up. Losing his battle against ill health, he just couldn't take it any more … 'no quality of life', as he continually said … so he just gave up and faded away quickly … he would have been 88 in two weeks.
Dorothy [Solomon] is trying to be her usual strong self but failing miserably. I never thought I would ever hear her cry. They were so good together.
Philip and Dorothy were true legends in the management/agency business. Max and Blossom Bygraves together with Philip and Dorothy made a formidable quartet living side by side in London and in Bournemouth..
From their origins with Mario Lanza and Nina and Frederik, on to Bridie Gallagher, Ruby Murray [5 records in the top ten at the same time!], Jimmy Shand.
He discovered many, working closely with Hughie Green and his 'Opportunity Knocks'. Freddie Davies, Norman Collier, Lena Zavaroni, Frank Carson, Pam Ayres.
On the 'pop' side he discovered 'Them' with their lead singer Van Morrison …. The Dubliners … Gilbert O'Sullivan, David McWilliams, Malcolm Roberts … guided The Bachelors right through their career.
Smack bang in the middle of all the Tom Jones and Englebert Humperdinck dramas! His record label 'Major Minor' scored many massive hits.
His lifelong interest was horse breeding and racing … he had much success. 'My Charmaine', named after the Bachelors' hit, was one of his great triumphs. Through his years he became quite a respected force in the Art World.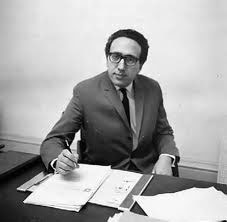 Philip Solomon as Executive director of 'the ship that rocked' … Radio Caroline.
His acquiring of the pirate ship Radio Caroline [aided financially by The Bachelors] was a stroke of genius giving his artists unrestricted air time for their record releases.
The crazy stories of Philip and Dorothy's antics worldwide are legend and they were never far away from the front pages.
The Showbiz world is now a lesser place without Philip … may he Rest in Peace.