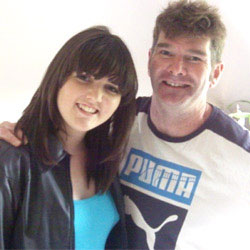 Megan and Derek relax in Dec's home, Stanton Prior
"Not exactly a long lost cousin, but a cousin Con & Dec have not seen for 32 years ... quite amazing ....
Derek is our sister Brenda's son and has carved himself a career in Dubai and Abu Dhabi ,,, just like Brenda and her husband Freddie did all those years ago in Malaya.
He came over to take his daughter Megan on a road trip to meet the Cluskey side of the family ... next week he goes to see the Duggan side in Ireland before taking a break at his house in the South of France. Of course he loves all things Bachelors ... and I even recorded Megan and himself in my studio ... he was thrilled. He is quite a guitar player with his own band in the Emirates.
They were fascinated to meet the Southern Cluskeys and Megan took a great shine to Layla ... they were inseparable .... even when we walked along the cliff at Beachy Head ... not me ... I was terrified .... DEC"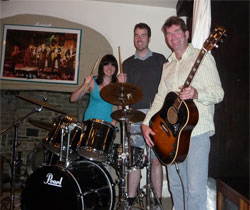 Megan and Derek have a 'Jam Session' with Con's son Phillip at Con's home