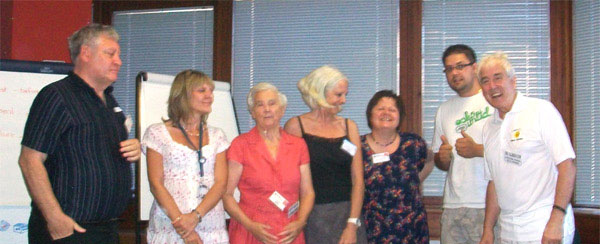 "Dec and his team at Eastbourne ...
Tony, Wendy, Dorothy, Dilys,
Eliza, James, Dec"
"Her first speech ever .... Luanne .... nerve wracking"
Dec, in his role as Area Governor
of Toastmasters International [the largest speaking organisation in the world],
has devised a workshop programme for Princes Trust.
The Bachelors have always known how to talk
but being so involved with Toastmasters has brought
their 'speaking' to a new level.
During each twelve week stint with the Trust,
he conducts two workshops with the Princes Trust students
to prepare them to deliver a two/three minute
speech on their last night,
their Presentation night, in front of,
usually, around 200 friends and family.
In the past months he has conducted the workshops
in Hastings, Brighton, Shoreham and Eastbourne with huge success.
So much so that he is being asked to roll out the scheme throughout the country.
Speaking ability = employability ....
a fascinating idea, but does Dec have the time?
"Dec at work - in full flow .... quality stuff!"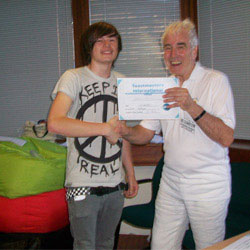 Awarding a well deserved certificate
.... well done Ashley"