The Bachelors History 1962 1963 1964 1965 1966 1967 It Becomes a Blur! 1984 1985 1986 1993 2000 2001 2002 2003 2004 2005 2006 2007 2008 2009 2010 2011 2012 2013 2014 2015 2016 2017 2018 2019 2020 2021 2022 2023
PLEASE BE PATIENT - THERE ARE AN ENORMOUS AMOUNT OF
PICTURES/VIDEOS TO LOAD UP, SO MAY TAKE LONGER THAN NORMAL ...
WORTH THE MINUTE'S WAIT?
Con & Dec 'The Bachelors'
are
Simply The Best
Con with Councilor Henry Kenny
of Mayo County Council
at the Calderdale - Mayo Twin Link Society Dinner
in Berties Banqueting Suite, Elland.

Con with The Oldest Water Rat,
Past King Rat Alf Pearson
and the newest Water Rat,
Baby Rat Peter Polycarpou.
Peter became a Water Rat on 26th February.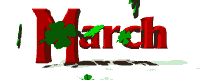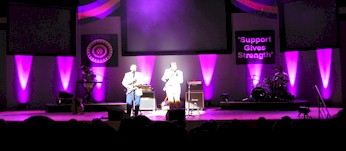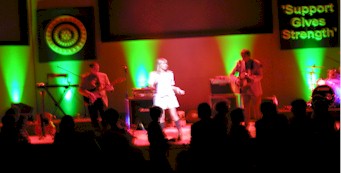 Appearing at 'The Waterfront' in Belfast
Con & Dec had them all Dancing
in the Isles.
Vicci C joined in the fun
and had them dancing as well!!
Wow what a night to remember.

"The Bachelors were a very big singing act out of Dublin,
and about the only non-pop artists who
consistently topped the charts in the Sixties." Sharon Osbourne's book 'My Extreme Story'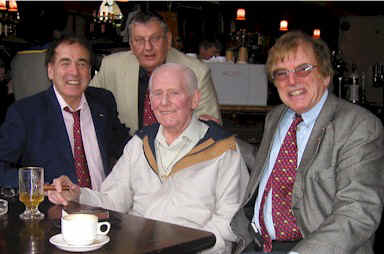 The Welcome Return of
Water Rat Dr. Jim Marshall OBE with Dec,
Derek Martin [Charley Slater in Eastenders]
and Con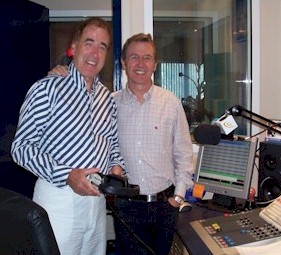 Dec gets together with Kevin Woodward
of 'Ready Steady Cook' fame on
Kevin's popular Radio Show in Spain.
Joining in the fun at
the Billy Fury Tribute Weekend
were Jimmy Cricket, Dec, The Mayor of Wirral,
Councilor Christine Meaden, her Consort, and Con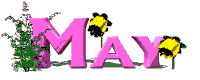 Con & Dec
let their hair down to celebrate the 60th Birthdays
of Chris and Rita Stern at
'Berties' of Elland

They also threw in
some entertainment as a Birthday Present!!

Con & Dec with Peter Lydon
when they appeared at 'Lydons' in Wimbledon Village
Another Memorable night,
with Memorable Food!!

Con & Dec with some members of their
Fan Club at a 'Get Together' before
their show at 'The Castle Hotel' in Tamworth

Con gets all dramatic at The Castle Hotel Tamworth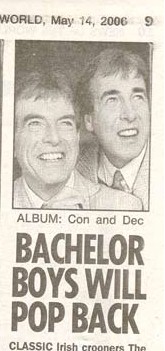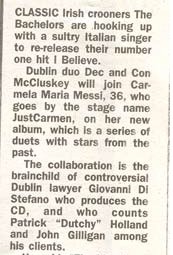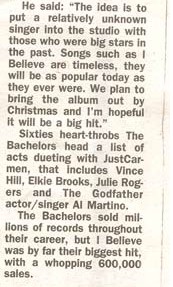 Write Up from 'The News of The World',
14th May 2006, on Con & Dec's
new record of
'I Believe'
to be recorded soon in Dublin
5 Water Rats - Tim Healy, Con, Tony Barton
Norman Collier and Johnny More all turned up
to support the Celebrity Golf Tour at
Elsham Golf Course

Celebrities Johnny More,
Pro Golfer Fred Whitfield,
Norman Collier, Football Legend Duncan McKenzie,
Con Cluskey, Lucy Collier, Stuart Wade (Emmerdale), and
Football Legend Frank Worthington
Con & Dec back in Guernsey
by Popular Demand at the
Wayside Cheer Hotel

They found a cottage in Guernsey
that reminded them of Ireland!
Lynne Hayes, Con & Dec The Bachelors Fan Club Secretary
came to see them on her Birthday
16th September, and shared a 'Special Cake'.

A Special Cake for a Special Lady!
Con, Dec and Victoria with
Fr. Ned Quinn, Parish Priest at St. Anne's Parish Centre
in Birkenhead. Fr. Ned and Con grew
up together in Dublin and are
life long pals.

Con, Dec and Victoria
had the time of their lives performing
at St. Anne's Parish Centre
for Fr. Ned Quinn.
Margaret Con & Jean celebrating
Joy's (Margaret's Mother)
80th Birthday Party at
DiMiro's Restaurant in Cardiff

Bad News!
Breakdown on the way home.

All Together "There's No Business Like Show Business" ..
Especially at 8 am on a Cold November Morning.

A Forlorn 'Bachelors Crew'
Mac (Sound), Phillip (Lights) and Justin (Drums)
can't wait to get home to bed!
The 'New Bachelors' Con,
Peter Phipps and Dec have a reunion
when Pete popped in to see
his old mates at Corton Coastal Resort.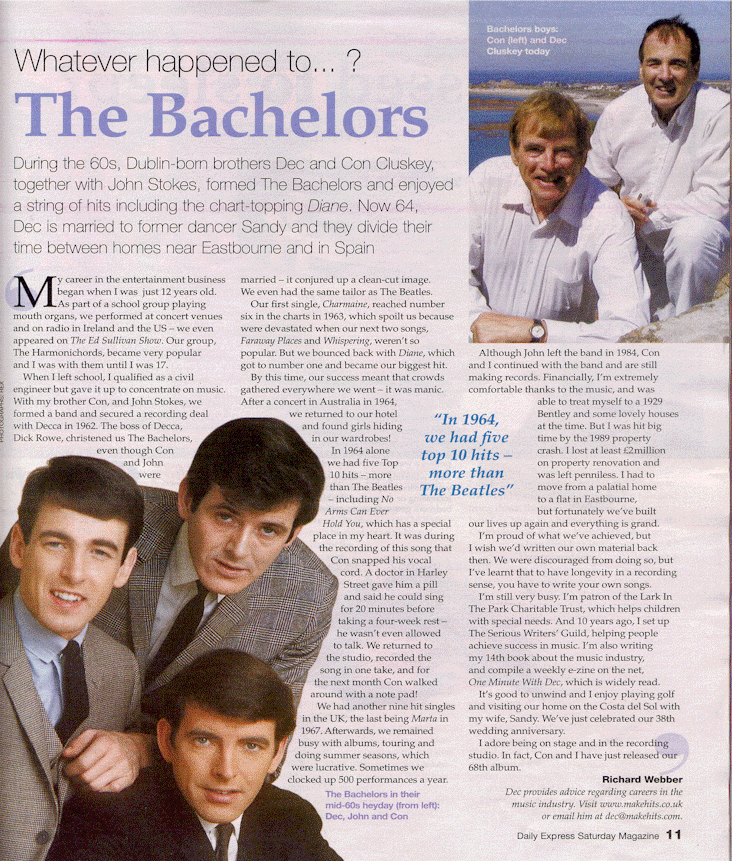 Dec's Daily Express Interview
'Whatever Happened to The Bachelors'
in which Dec explains our non stop
singing career since 1962. In it
he explains how John left the act in 1984
and how Con & Dec have continued recording
and performing all over the World!
Dec Vicci and Con Reach for The Stars!!

Dec Enjoying himself 'Doing a Solo!'

Con gets Dramatic in 'I Believe'

Con & Dec enjoy meeting their
Fans after the show!

Vicci comes out front
to show her talents

The No. 1 Crew: Mac on sound, Con,
Justin on Drums and Pete Noble
on Lighting
| | | |
| --- | --- | --- |
| Freddie Cluskey meets Santa | Lydia Cluskey is not too sure! | Miles Cluskey Definitely does not like Santa!! |
Happy New Year
Ring in the New Year and wish Everybody
a Happy Healthy and Prosperous 2007