| | | | | |
| --- | --- | --- | --- | --- |
| | | | | |
2001 Con & Dec The Bachelors, 60's Group
Year 2001 promised to show that Con & Dec The Bachelors were as popular as ever , as the demand for their services is still keeping them extremely busy. Not only are their Cabaret , Concert and Cruise appearances popular, they now find themselves in great demand as Hilarious After Dinner Speakers!
The stories of their exploits from the 60's to the 90's and now into a new Millennium are never ending. They keep their audiences in stitches at their exploits with people like Tommy Cooper, Les Dawson, Liberachi, Gerry Lewis, and Frank Carson.
ALL ABOARD !!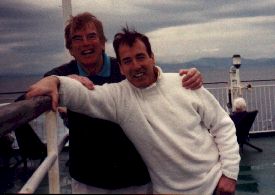 Con & Dec enjoyed their recent cruise. The audience enjoyed their Cabaret Show AND their 'Question and Answer' Talk Show.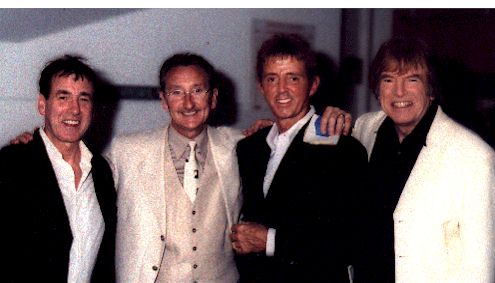 Dec George Jones Dicky Rock Con
Backstage at The Waterfront in Belfast on 26/5/01.
What a night... Another Standing Ovation for Con & Dec The Bachelors!!!
---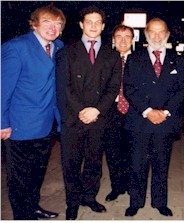 Prince Michael & Son join Con & Dec at a Water Rats Function.
---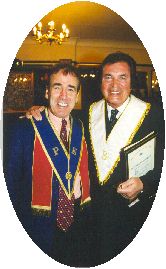 Engelbert has just joined Con & Dec in the Elite
'Grand Order of Water Rats'
---
Con becomes President of Elland Rotary Club
---

---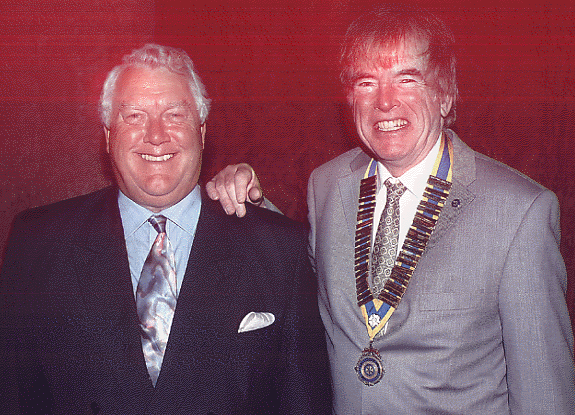 Sir Rodney Walker with Con at a sporting evening held at Elland Rotary Club.
---
Recording
They released their 59th album called 'The Complete Bachelors' which contains ALL 18 of their 'HIT SONGS', plus two 'Bonus' tracks. They have added their most requested Irish Song 'The Fields of Athenry', plus their popular .. never a hit .. 'The Unicorn'.
This is the first time that all their hit singles will be released on the same album .
ALSO
Because of the success of the 7 Christmas tracks they released for Christmas 2000, Con & Dec were asked to record a further 11 tracks for Germany. This Album was released in Switzerland, Germany, South Africa and Australia for Christmas 2001.
In all Con & Dec have 30 Christmas Tracks available, which will be released in the UK as a double album!
Also Con has been starring in his own Radio Show called 'The Wireless Set' on BBC Radio Leeds from 2pm to 4pm from Monday to Friday. He calls himself 'Yer Man' and he was back 'on the air' from 24th September to 26th October.
Between 'Live' Performances, Broadcasting and Recording it was another busy year for Con & Dec.
They were booked by the Brent Hotel Chain for the Christmas Period including Boxing Day, so there's not much rest for Con & Dec 'The Busy' Bachelors !!
The Future
Con & Dec are looking forward to it............Its another adventure, waiting to happen!!
Con & Dec The Bachelors
Original 60's Group
http://www.thebachelors.co.uk/2001.htm -- Revised: 01/02/16
Copyright © 2001 Con & Dec The Bachelors. The Original 60's Group. All rights reserved.
Maintained by: bachelors.webmaster@thebachelors.co.uk

DISCLAIMER: Please note that this is a historical site for reference only. This site does not purport to be a promotion of Dec Cluskey and Con Cluskey as 'The Bachelors'. Con and Dec [who recorded every Bachelors' Hit] are familiarly and legally known as Con and Dec The Bachelors.