The Bachelors History 1962 1963 1964 1965 1966 1967 It Becomes a Blur! 1984 1985 1986 1993 2000 2001 2002 2003 2004 2005 2006 2007 2008 2009 2010 2011 2012 2013 2014 2015 2016 2017 2018 2019 2020 2021 2022 2023
PLEASE BE PATIENT - THERE ARE AN ENORMOUS AMOUNT OF
PICTURES/VIDEOS TO LOAD UP, SO MAY TAKE LONGER THAN NORMAL ...
WORTH THE MINUTE'S WAIT?
Con and his son Phillip joined Margaret and Carl Gresham -
'The Gresh' on Bradford Community Radio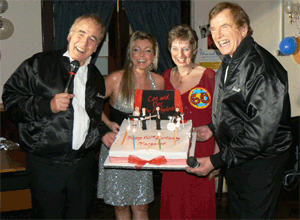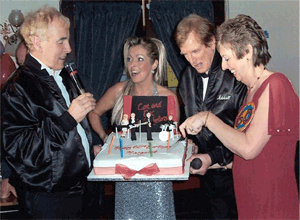 Con & Dec and Victoria help Margaret Haddon to cut her Birthday Cake which
had pictures of Con & Dec The Bachelors on it............. What a night!!
Margaret Haddon celebrated her
60th Birthday with her two Sisters, Ave and Doe,
watching Con & Dec

A Special Birthday Cake for Margaret
who has been a 'Life Long' Fan of The Bachelors

Victoria, Dec and Con delighted the crowd
with their Powerful Singing and 'Moody Lighting'

Michael Cluskey, Con's Son
celebrated a 'Special Birthday'

A Special Birthday Cake for a Special
Big Boy whose life has just begun!!

Con's Grandchildren Miles, Lydia and
Freddie enjoyed the party.

Con & Dec with Victoria
and their Drummer Justin Edley enjoying
the Spanish Sunshine outside
the venue they were playing

Linda Anderson of Ticketplanner
treated Con & Dec and the gang to
a special night out at Eduardos on
the Orihuela Coast. Alan & Sandra Scaife
of Special Events joined in.


Con & Dec broadcasting on
Spanish Sunshine FM

Con & Dec have the crowd
on their feet at Eduardos in Spain

Dec & Con receiving their
presentation from Ricky Valance on behalf of
'Ticket Planner'
for having reached No. 5 in the
Radio One Album Charts.

Dec gets down amongst the
audience at Eduardos.

Con & Dec relax with the TV Crew
after their Press Interview.

Con & Dec found a few minutes
to enjoy some Tapas at a
local bar in St. Miguel

ET is Phoning Home
in the Spanish Sunshine.

Con Dec and Victoria with
Paul and Steve at Sunshine Radio
in Spain

Too much 'Rock & Roll' in Spain?

The joys of travel at Alacante Airport!!

Dec outside
The Temple Expiatori de la Sagrada Família

Dec was fascinated by the beauty
of the interior of Segrada Familia
in Barcelona

Dec and Sandy certainly
enjoy the food in Spain

Con & Dec with their
new drummer Dan Hudson on their way
to the Isle of Wight for a concert
at the Shanklin Conservative Club.
Shanklin has been voted
the most successful club in Britain

'A Hard Days Night'. Drummer Dan, Soundman Mac
and Lighting Technician Neil
on their way home on the
2 a.m. ferry to Portsmouth

The Rotary Club of Elland,
of which Con is a member organised
a School Choir Festival at Brooksbank School
in Elland to encourage young children
to participate in the joy of singing.
Con & Dec make it their duty
to help young people in showbusiness.
They call it 'Sending the Lift back down
for the next generation'.

The Birmingham Mail ran a competition
on the 100 great Irish people
on Tuesday March 17th.
Con & Dec The Bachelors came Top!!

Con in full flow at one of Con and Dec's
favourite venues: The Royal British Legion,
The Warrior Club

The Audience goes wild at The Warriors

Dec joins the legend that is Kenny Lynch!
Rocky Taylor the 'James Bond' stuntman
and Sandy joined Dec after the
Celebrity Golf Game in Eastbourne.

Beth Sheridan and Catriona kindly
invited Dec to the planting of Bernard's tree.

Dec reverently helps plant
a walnut tree in honour of Bernard Sheridan
the Showbusiness legendary lawyer
a year after he sadly died

Les Reed, songwriter extraordinaire
– joins Dec in planting Bernard's tree …
he wrote so many huge hits:
'There's a Kind of Hush', It's Not Unusual',
'Delilah', 'The Last Waltz',
'Here it Comes Again'.

David Williams exhibited in London …
Philip Solomon put the exhibition
on and insisted that Dec come along.

Dec attends a London art gallery
and who was there? Richard Rowe [right]
son of the infamous Dick Rowe
[60's boss of Decca]. Richard has retired
as head of Sony Publishing
in Madison Sq. New York.
His sister and her husband
joined Dec, Sandy and Victoria.

Dec joins Don McLean, Julie Rogers, Michael Black and
Victoria when Victoria performed at
Kenneth More Theatre in Ilford.

John Leyland, a Bachelors Supporter
of many years standing,
was visiting a 'steam railway'
near Llangollen in North Wales
and spied an old Austin 'Chummy' Car
parked up at one of the stations.
YES! It's THE car from
The Bachelors + 16 Great songs Album cover -
how amazing is that 45 years later??? !


The Decca album (750,000 copies sold -
47 weeks in the chart over 64/65 and No.2)

Con sings The Bachelors Hit Songs
as only he can!

Rev'd Mary Railton-Crowder
Vicar of St Cuthbert Birkby & St Philip
the Apostle Birchencliffe
joined Dec & Con on stage
at the concert in the new Community Centre Hall.
They were raising funds
for the rebuilding of the Hall

Con & Dec in full flow singing to a
delighted packed audience

Con sang his heart out at the
Brunswick Gardens Celebration

Con & Dec put on a Superb Show
at Brunswick Gardens Retirement Village.
The Village was celebrating it's First Anniversary
and chose Con & Dec as their preferred
Cabaret Act for the night.

Dec joined in the Celebrations in his own suave way.

Con was asked to give a talk
on his life in Show Business
to the members of Bradford West Rotary Club.

Con was greeted by the President
of The Bradford West Rotary Club
Tony Caunt and his wife Judy

Con's Talk at Level 6 Restaurant
in Bradford was much appreciated
and some of his anecdotes
brought roars of laughter

.

Con & Dec gave a concert in aid
of Marie Curie Cancer Care

Con & Dec in full flow
at the 'Marie Curie' Concert

Con & Dec met up recently with
old friend Tony Davis from The Spinners
and spent some time catching
up with their past'

| | | |
| --- | --- | --- |
| | Con & Dec photographed by Graham Vernon | |

Some of The Fan Club
came to see Con & Dec at St. Edita's Church
in Tamworth and had a wonderful
'Get Together' with them.

Dec and Victoria look at home
on the altar.

Con & Dec backed by Alex Hill
on drums and Victoria on keyboards
went down a storm at St. Edita's Church.

Con & Dec at
The North Pier Blackpool.

Justin Edley Extraordinary Drummer

Neil lights up our life on stage

'Mac' makes us sound great

Isle of Wight Ferry.
On their way to do a 'One Night Stand'!
Nothing to do but drink tea!

Con, Alex, Mac, Victoria,
Dec and Neil relax before the show
at Southwark Park

Con & Dec in action onstage at
The Event in Bermondsey, London

Con & Dec with organisers of 'The Event'
Russell Dryden and Phil.

Dec going it alone

.

Con & Dec show the young ones how it's done!

A delighted crowd cheer Con & Dec
at 'The Event' in Southwark Park, Bermondsey

Gordon Giltrap, Dec, Jess Conrad, Brian Pool,
Con, Chas McDevitt, and Nicko McBrain
from Iron Maiden, all celebrated
Dr. Jim Marshall OBE's Birthday Party.

Con & Dec sat with Dr. Jim Marshall OBE
at his 'Birthday Bash'. Jim was sharing
his own brand of Whiskey!!

Victoria, Dec's Daughter,
sang 'Happy Birthday to Dr Jim
a la Marilyn Munroe

Dec with his MG Roadster and a Sunbeam Tiger
posing in Eastbourne for the MG Website.

Con & Dec appearing at the
1270 Rotary Conference at
The Spa Bridlington

A Sensational Night

Dec went to see Chrissie
at St. Wilfrid's Hospice in Heathfield
at the request of his friend Majda Pehlic.

Chrissie had a picture on the wall
taken with Dec many moons ago.
As a treat the boss of the hospice contacted
Dec to pay a surprise visit
and give a talk. The talk went down a storm.