The Bachelors History 1962 1963 1964 1965 1966 1967 It Becomes a Blur! 1984 1985 1986 1993 2000 2001 2002 2003 2004 2005 2006 2007 2008 2009 2010 2011 2012 2013 2014 2015 2016 2017 2018 2019 2020 2021 2022 2023
PLEASE BE PATIENT - THERE ARE AN ENORMOUS AMOUNT OF VIDEOS TO LOAD UP,
SO MAY TAKE LONGER THAN NORMAL ... WORTH THE MINUTE'S WAIT?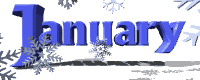 REVIEW of DECEMBER 2012
Happy New Year as Con's Grandchildren
Lydia, Freddie and Miles entertained
the family with their version of 'Riverdance'!

Con and his family celebrate
the New Year with a family meal
at home in New Hall

Con's son Phillip sang in the New Year
with his act 'Little and Often'.
Con joined in with Phillip and
Little Roni to help celebrate 2013.
Dec spoke from the Top Table
at Tony Floods Book Launch
watched by Heather, Tony's wife .

Dec helped Tony Flood
launch his latest book 'My Life With The Stars'
which features celebrities that
Eastbourne author Tony Flood has
interviewed during 46 years as a journalist.

Dec at Tony Floods book launch
together with Mayor of Eastbourne
Mike Thompson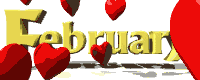 REVIEW of JANUARY 2013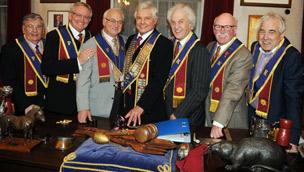 Dec with newly installed King Rat Jess Conrad OBE(Centre)
with an assembly of other Past King Rats,
on Sunday 10th February 2013.
Left to Right: Derek Martin from Eastenders, Graham Cole from The Bill, Roy Hudd OBE,Jess Conrad OBE,
Preceptor Keith Simmons,Ventriloquist Roger De Courcey and Dec Cluskey.
Con took time out to get away from
the bad weather and played golf at the
Parador El Saler Golf Club where the Spanish Open
will be held later in the year.

Back to work! Dec and Victoria
in the control room in Dec's studio
discussing harmonies for Con & Dec's new album.
A work in progress!!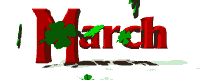 REVIEW of FEBRUARY 2013
The Joys of Touring!
Con inspects the damage as the Equipment Van
got stuck in the mud when they were
appearing at Mill Rythe Holiday Park
in Hayling Island. Luckily they were towed out
in time to get to their next show.

Dec and Con check out some harmonies
on the keyboard before the show
at The Grand Burston Hotel in Folkestone
on St Patrick's Day.

Jacqui Green,
Dec, Birthday Boy Geoff Green and Con.
Con & Dec gave a special concert in Gillingham
for Geoff to celebrate his Birthday.
A great time was had by all,
especially the family, when Con & Dec and their crew
popped in to their home prior to the show
for a cup of tea! XXX
Con gets the crowd going
at Illfracombe Holiday Park 60's weekend

Showbiz is not all glamour.....
Con & Dec take their lives in their hands
as they drive through blizzard condition
to get home after a show in Gillingham in Kent
For the first time in 50 Years
Con had to cancel a show at
Harts Holiday Park
in The Isle of Sheppey,
as he was 'Snowed In'
at his home in Elland!
His car, buried in snow,
was going nowhere.
Claire Carpenter winner on both
the evaluation and speaking competitions
at Eastbourne club level.
Next is Dorothy Margison (El Presidente).
Then Jeff Grace, winner of the speaking competition
at area level. To the far right
is Distinguished Toaster Master Dec Cluskey.

Dec was invited to the 100th Anniversary
Celebration Party of the Langham Hotel
in Eastbourne on March 24th.
The hotel opened a hundred years ago
to the day. After speeches and toasts
the present owners Wendy and Neil Kirby
cut a surprise 100th Birthday cake.

Dec presented Clair Carpenter
with her prizes at The Toastmasters
speaking competition in Eastbourne.
Dec met up with old friend and fellow Water Rat
Nicholas Parsons when he appeared in Eastbourne where Dec lives.

Dec with King Rat Jess Conrad
and his Grandson Anthony who was over from South Africa.
They were relaxing at The Water Rats after a game of golf.
It is with great sorrow that we say
goodbye to our great friend Norman Collier who died on
Thursday 14th March 2013.
Norman was more than a comic, he was a
clown who kept us all amused over the years.
Thank you Norman...... You Lit Up Our Lives....
Rest In Peace Dear Friend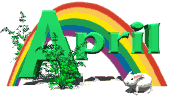 REVIEW of MARCH 2013
Dec and Con Backstage at The Caravan Event
in Peterborough with compere Tank Sherman
and impressionist Paul Burlin

Con & Dec at the East of England Showground
and met up with an old friend Martin Stansfield le Porque
who was in charge of the sound for the site
which seated over 2000 people.

Dec and Con met up with The Tremelos
at The Caravan Event in Peterborough.
Pictured are Dave Munden, Dec,Tank Sherman,
Jeff Brown and Con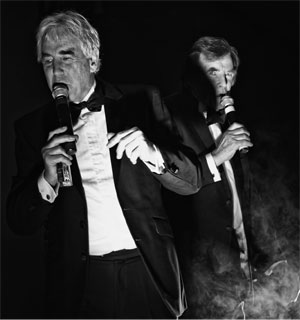 Dec & Con entertained the members of Dore & Totley Golf Club
at their Centenery Dinner at St. Pauls Hotel in Sheffield
When Con & Dec started their career
in Showbiz in Dublin, they were often asked
to appear on shows organised by by Jomac.
These were shows in old peoples homes, hospitals and orphanages
and over the years many now famous Irish artists
appeared in these shows. The Jomac show is now going live
on radio and details are on the poster.
Con & Dec can't wait to hear what they will come up with,
they're sure it will be good!! Click to listen

The Jomac Show is still going strong –
60 years since it was formed by two entertainers...
they have performed in orphanages, hospitals and
nursing homes across Dublin and Ireland.
In this special two part radio series,
Robert Mc Loughlin and Joe Maguire
share their memories of The Jomac Show.
The series features interviews with well know entertainer
Joe Cuddy, Dec Cluskey from The Bachelors,
and many of the other volunteers who have entertained with The Jomac Show.
The Jomac Show can be heard in full on
Saturday morning May 18th
at 9.30am on 90.3 Nearfm.

REVIEW of APRIL 2013
Con at Ken Newton's Funeral
Con had a chat with Ken's twin brother Cyril.
Both Ken and Cyril had played
for all the stars who appeared at Batley Variety Club
in Yorkshire with Ken on Drums and Cyril on Bass.
When they finished at Batley
they both joined The Bachelors touring all over the world.

Ken Newton sadly died in May.
Many will remember him playing with The Bachelors
through the 70's and 80's.
He is now probably playing with Glen Miller
and having his favourite tipple
"Whiskey and Coke".
Rest In Peace Ken

Con, his daughter Carole,
Stuart Atkins and Franny Haywood
at Ken's funeral. Carole had lived
with Ken and his family
whilst she was at college in Leeds,
Stuart had been Musical Director for The Bachelors,
and Franny was a drumming friend of Ken's.

REVIEW of MAY 2013
Graham Grumbleweed
We lost another friend and fellow Water Rat, Graham
and the world lost a great comic character.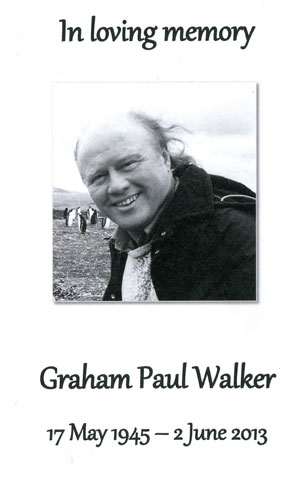 Dear Graham........ Rest In Peace
The Krankies joined Con
and Frazer Hines
at Graham Grumbleweed's Funeral

Amongst the mourners for Graham
were comedian Jimmy Cricket,
Freddie 'Parrot Face' Davis,
Johnny Hamp (Producer of 'The Comedians')
and Con.

Stuart Atkins,
who was The Bachelors musical director
for many years, Freddie 'Parrot Face' Davis
and Con.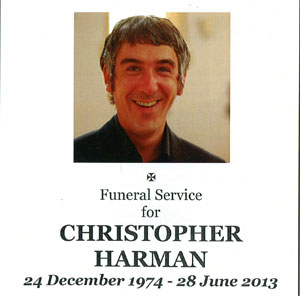 Chris Harman, who played drums for Con & Dec
many times sadly passed away.
Chris who lived in Leeds was well known
and well loved.
May he rest in peace

REVIEW of JUNE 2013
Con helped out on the Information Desk
at Elland Carnival. Also helping
out was Councillor Michael Bailey
and Rotarian Peter Robertshaw.
The Elland Rotarians were collecting money
at the carnival for the campaign
to save Elland Swimming Baths.

Con & Dec had the audience
on their feet dancing the night away
at Ivan Dorr's Wedding in Huddersfield.
Ivan is a friend of Cons through Rotary.
What a night that was!!!

Dec and Con performed at a friend's wedding
in Huddersfield. It was a fantastic occasion
with over 200 guests.
Everybody had a great time dancing to Con & Dec's music.
They are still talking about the great night they had.

REVIEW of JULY 2013
Con & Dec's Nephew Derrick gets Married
Con & Dec celebrate their nephew Derrick's
wedding with his brother Gerry and sister Dierdre

The Happy Couple

Dec with his son Oliver and niece Dierdre join in the celebrations.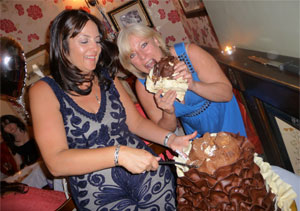 Carole, Con's Daughter, samples the Wedding Cake.
And what a cake it was!!!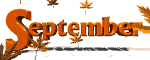 REVIEW of AUGUST