The Bachelors History 1962 1963 1964 1965 1966 1967 It Becomes a Blur! 1984 1985 1986 1993 2000 2001 2002 2003 2004 2005 2006 2007 2008 2009 2010 2011 2012 2013 2014 2015 2016 2017 2018 2019 2020 2021 2022 2023
PLEASE BE PATIENT - THERE ARE AN ENORMOUS AMOUNT OF VIDEOS TO LOAD UP,
SO MAY TAKE LONGER THAN NORMAL ... WORTH THE MINUTE'S WAIT?
A New Decade for Con & Dec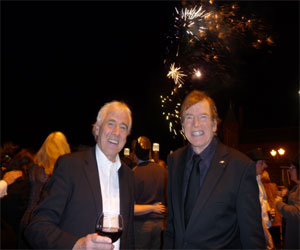 Dec & Con see in the New Year with a Fireworks Display in Cardiff.
Derek Martin, from Eastenders,
becomes King Rat of the Grand Order of Water Rats.

The New King Rat, Derek Martin,
installs Con as Bait Rat
with the Grand Order of Water Rats.
Con & Friend John Gittins. John,
recently retired from Perkins Engines,
was celebrating his 60th Birthday.

Con's Son Phillip in charge
of the sound at the Bradford Alhambra Theatre
takes time off from working
with his band 'Strange Bright Lights'.

Con popped in to see old friend
Billy Pearce who was playing Jack
in 'Jack & The Beanstalk' at The Alhambra.
Jasper Carrot and Dec have a chat
at the funeral of their friend Geoff Francis
who died recently.

Dec in a Sunbeam Tiger just like
he owned in the Sixties –
a major article in the Tiger Magazine.

Opening Seahaven FM new radio station.
Dec made sure they played some
'Con & Dec The Bachelors' Records!
'The railway gate entrance'

The horrors of Auschwitz and Birkenau …
Dec and Sandy just had to see it
for themselves … Dec was horrified.
The infamous gate to Auschwitz …
no one survived more than three months
in captivity there.
Birkenau was the final solution

The sheer scale and size takes
your breath away. Man's inhumanity
to man.
Con shows off his Irish Dancing
during the St. Patrick's Day Show
at Lake Windermere.

Con & Dec stayed with
Glynn Wrennall in his lovely home
when they performed a Charity Show
for him at Lake Windermere.

Dec & Con have fun...
Making Music is the easy part!

Con & Dec had a drink with
their friend Liam O'Connor to celebrate
Easter after a 'Knock Out Show'
at The Meadway Sports & Social Club
which Liam owns.
Dec and Con recording their new Swing
Album at Dec's Studio.
It will be released in October 2010.
This will be their 76th Album.
'Swinging Bachelors' to be released
in the Autumn …

Dec receives his Prize for winning
the Annual Speech Competition at
Battle Toastmasters Club from
President Giles Robinson.
Dec is currently president
of the Eastbourne Toastmasters Club.
Con gets to hug a Roman Pillar
at the important archaeological
site at Empúries in Spain.

Con is dwarfed by the 2.15m-high statue
of the Greek god of medicine Asclepius
which is made of marble,

Con also visited the Cathedral
of Girona in Catalonia, Spain

Dec & Con had fun on stage
entertaining a packed house
at Walsall Town Hall.

Dec & Con had the Shelfield Male Voice Choir
backing them in several of their favourite songs.
Con said "It was so uplifting to have
the full force of a choir behind you,
and they sang so beautifully.
The crowd went wild".

Dec was made Area Governor
of Toastmasters International. Dec is a member
of the Eastbourne Club and was overjoyed
at the honour bestowed upon him.

Members of Con & Dec's Fan Club
met up before their concert in Ferndown.
After a meal together Con & Dec performed
to a packed audience and received
a Standing Ovation at the end of a 3 hour show.

Con & Dec were delighted to welcome
backstage their old management team
Philip and Dorothy Solomon. Philip and Dorothy
guided them throughout the 60's and 70's
and ensured their huge success.

Con played Golf with Ricky Tomlinson
at his Charity Golf Tournament at Frodsham Golf Club

Con at a Celebrity Golf Dinner
with Clive Abbott, Comedian Ian 'Sludge' Lees
and Footballer Frank Worthington.
The Charity Golf Day was
organised by The Celebrity Golf Tour.

Con played golf for charity at
St. Thomas's Priory Golf Club with Footballer
Frank Worthington and Clive Abbott from The Black Abbotts.

Con, Dec and Victoria lighting
one of 50 Chinese Lanterns to celebrate
John Walkley's Golden Wedding Anniversary.

Con & Dec with John Walkley
celebrating his Golden Wedding Anniversary
by releasing 50 Chinese Lanterns

Dec watches the stream of lanterns
disappearing into the distance.

<<-- Con with Fellow Water Rats
Musical Rat Don Shearman, Curator Jimmy Perry OBE,
who wrote 'Dads Army', 'Hi de Hi' and Many other great comedies.
Con with Fellow Water Rats Mike Martin, and Nicko McBrain of Iron Maiden -->>

Dec in Moscow.... It was COLD!

After walking round Moscow Dec took a rest

Dec and his son Oliver
went to Moscow for a break
and came back with lots of stories!
Con and Dec with Steve Harris.
They were guests of Iron Maiden backstage
at their sensational appearance at Knebworth

50,000 people came to see Iron Maiden
perform at Knebworth

Con Dec and Victoria enjoying
the hospitality 'Backstage' at the Iron Maiden
concert at Knebworth.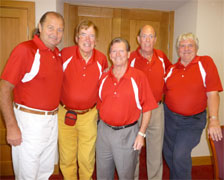 Con with Team Mates Frank Worthington, Johnny Briggs (Coronation Street)
John Lowe (Darts Champion) and Bryn Phillips (Comedian)
at Celtic Manor Golf Club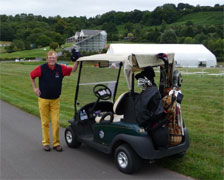 Con out on the course at Celtic Manor
with the Tented Village being built behind
him for the Ryder Cup.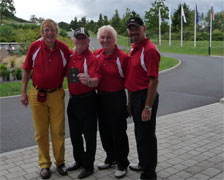 Playing Golf at Celtic Manor with Clive from
The Black Abbotts, Shel McCrae from The Fortunes
and Steve Pinnell from Smokey
Humpty Dumpty Had a Great Fall,
and so did Con when a ladder slipped and he fell,
cutting his face and resulting in 14 stitches!
All is well now TG.

Dec doing his bit for charity again ...
this time with long time family friend
Dame Vera Lynn - 93 and looking good?
Vera, that is!"
Con & Dec had a fantastic show
at Oakley Lodge Social Club
in front of a packed audience.
Also appearing on the show
were Noel Gee and Comedy Act Kenny Barton

John Gittins and Nicky Buxton (Left Front)
organised a concert for 'Help for Heroes'
which Con & Dec gladly performed
at in Worthen Village Hall near Shrewsbury.

Con received the award given to
Con & Dec The Bachelors for being
voted Best Top Name Act for 2010
A Standing Ovation from a packed audience
at The National Concert Hall in Dublin.

Con & Dec had a Hugely Successful
visit to the National Concert Hall
in Dublin playing to a sell- out audience

Con & Dec and their crew enjoyed
Dublin Hospitality, and the food was good too.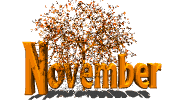 Dec, Gordon [Divisional Governor Toastmasters International]
and Sandy [Dec's Wife] celebrate the big win in Dublin.

Dec victorious – Dec coached the winner
of this years 'Humorous Speaking' Toastmasters International
competition held in Dublin
for Uk and Ireland. Here a unique picture …
Andy Hammond [Past President], Sandra Rampton [President Arun Speakers],
Teresa Dukes [District Governor],
Winner Adam Brromfield-Strawn [Arun Speakers],
Dec [Area Governor], Gordon Piggott [Divisional Governor]

Dec presents the prizes at Toastmasters
Area 32 Speech contest at Southwick

Dec and Victoria stop a while
at the new Lansdowne road Stadium in Dublin …
quite different to the old Stadium?

Dec and Victoria as guests of honour
at British Music Hall Christmas Bash

Dec with legendary agent Michael Black
and 'The Wedding' hit maker Julie Rogers at
The Water Rats Ball.

Rolph Harris and his Good Lady
with Con and his son Phillip and
his girl Friend Roni
who together are 'Little and Often'

Ed Stuart (Stewpot) Dec, Bob Potter (Lakeside)
Tony Hatch, and Con at The Water Rats Ball.

Con & Dec have a serious chat
with Tony Christie about his appearance
on 'Come Dine with Me' after The Water Rats Ball
at The Lancaster Hotel in London.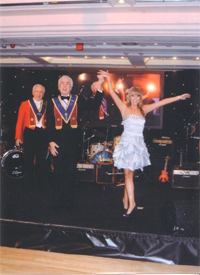 Dec and Victoria are introduced
at The Water Rats Ball
at The Lancaster Hotel in London
Dec & Con met up with
old friend Dave Berry
when they appeared at Butlins Skegness
for a 60's Weekend.

Con does his 'Bit' for 'Help for Heroes'
dressed as Santa Clause
on the Elland Rotary Sleigh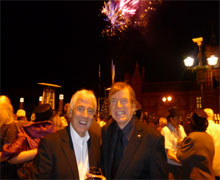 Happy New Year
Ring in the New Year and wish Everybody
a Happy Healthy and Prosperous 2011!!