The Bachelors The Original 60's Group.

In 1968 The Bachelors starred in their own production show called The Bachelors show, which they toured all over the British Isles and also Dublin. It was a huge spectacular containing two comedians [typically Mike Yarwood, Les Dawson, Frank Carson etc.] plus a comedy act, 16 Tiller Girls, Six Boy Singer/Dancers and Six Girl Singer/Dancers plus a speciality act.
| | |
| --- | --- |
| The Bachelors in one of the dance routines with all the girls | The Bachelors in full flow singing and dancing in their own spectacular show |
| | |
| --- | --- |
| Sunday Night at The London Palladium | Sunday Night at The London Palladium |
In 1970 The Bachelors starred in their own Comedy Playhouse Series called 'Under and Over' in which they played three Irish Navvies building an underground tunnel in London.
in 1971
| | |
| --- | --- |
| At 'The Talk Of The Town' with Diana Landor, one of the Showgirls | With 'The Bachelor Girls' Diana Miller, Erica Beale, Pat Spooner, Connie Kay and Penny Meredith who danced on their ITV series 'The Bachelors Show' |
in 1972
1974 saw a tour of South Africa appearing at the Nico Milan, Capetown from 11th February till 2nd March.
The Coliseum, Johannesburg from March 4th till march 16th.
The Capital Theatre Pretoria on March 18th and 19th.
The Playhouse, Durban from March 20 till 23rd.
Holiday Inns, from March 25th till 30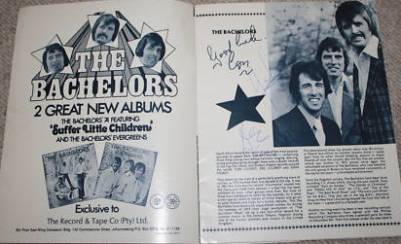 >>>>>>>>>> <<<<<<<<<<<
Con & Dec 'The Bachelors' threw themselves into many fund raising projects. It was time to 'Give Something Back' as they put it. In doing so they rubbed shoulders with many like minded people.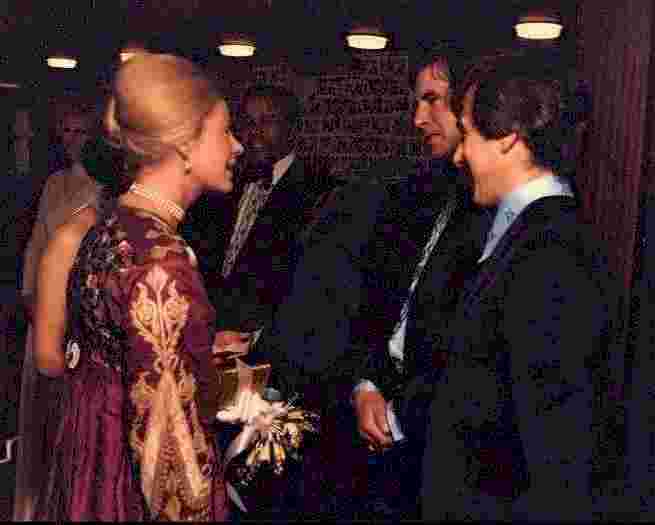 Con had presented a cheque for £11,000.00 to the Duchess of Kent to help her favourite charity. This was at a special Charity Concert at Batley Variety Club in Yorkshire, England.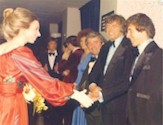 Con & Dec 'The Bachelors' chatting with Princess Anne at another charity event.
In 1975 Con & Dec took on another tour of Australia visiting all the major clubs and theatres and enjoying the process.
In 1976 A Summer Season at The Pavilion Theatre Bournmouth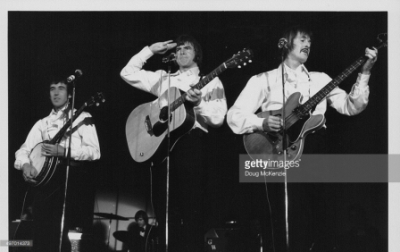 The Bachelors also appeared at Caesars Palace in Luton for a week
In 1977 A big surprise for The Bachelors..... This Is Your Life!!
in 1983

The Bachelors
The Original 60's Group.
http://www.thebachelors.co.uk/ablur.htm -- Revised: 07/01/14
Copyright © 2001 Con & Dec The Bachelors. The Original 60's Group. All rights reserved.
Maintained by: bachelors.webmaster@thebachelors.co.uk
DISCLAIMER: Please note that this is a historical site for reference only. This site does not purport to be a promotion of Dec Cluskey and Con Cluskey as 'The Bachelors'. Con and Dec [who recorded every Bachelors' Hit] are familiarly and legally known as Con and Dec The Bachelors.