The Bachelors History 1962 1963 1964 1965 1966 1967 It Becomes a Blur! 1984 1985 1986 1993 2000 2001 2002 2003 2004 2005 2006 2007 2008 2009 2010 2011 2012 2013 2014 2015 2016 2017 2018 2019 2020 2021 2022 2023
'Sounds of Sunday' with The Bachelors'

On Zoom First Sunday of the Month at 2pm for 2.30 pm.
Download Zoom software from the ZOOM.COM site
Meeting ID 736-7801-5504 Password: 2d6tmd

2003
A year in which Con & Dec celebrate the 40th anniversary of their first hit record
'Charmaine'
What we've been up to this year.
40 years at 'The Top' of their profession and still going strong!
These Dublin Lads who are celebrating
their 40 year in Showbusiness have released
a Christmas Album, posed almost naked for a Charity Calendar,
and released a new instrumental track
on the Water Rats Compilation Album called 'The Gathering',
and have have a track on the new 'Readers Digest' Christmas Album.
So you see they are still making headlines
around the World.
Latest Production!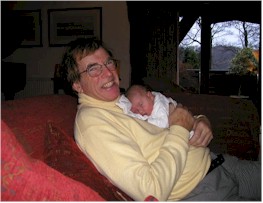 Con's Granddaughter Lydia was born on Christmas Eve 2003.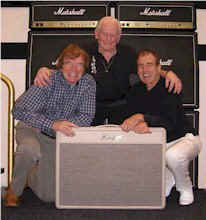 Dec Receives his Gold Plated Limited Edition Amplifier
from Dr. Jim Marshall O.B.E. for his contribution
to music over the past 40 years.
Con also received an amplifier from Jim.
Our Latest Album - getting rave Reviews!!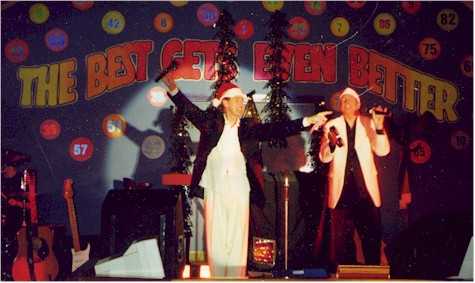 | | |
| --- | --- |
| Title: | Christmas With The Bachelors |
| Artist: | Con & Dec 'The Bachelors' |
| Format: | CD album |
| Other Formats: | Cassette album |
| Released: | 20/10/2003 |
| Cat #: | CD6514 |
| | |
'Water Rats' Compilation Album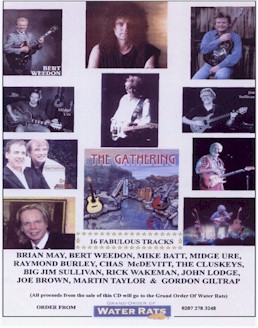 To Order Ring 0207 278 3248
'Water Rats' Compilation Album featuring :
Brian May, Bert Weedon - Mike Batt - Midge Ure
Raymond Hurley - Chas McDevitt - Big Jim Sullivan -
Rick Wakeman - John Lodge - Joe Brown - Martin Taylor -
Gordon Giltrap - and of course Con & Dec.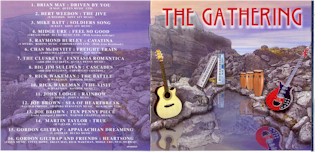 Released on Voiceprint Records
Distributed by Pinnacle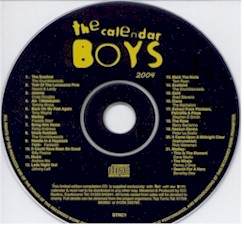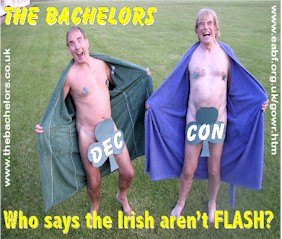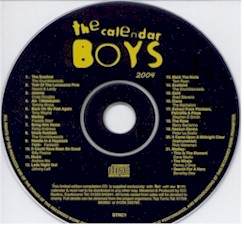 'Calendar Boys' + CD
The calendar plus CD available
from Neil Crossland,
Priory Road, Bolton on Dearne, Rotherham, S63 8AE
Tel. 01709 892893. Fax. 01709 891156
or from the artists appearing in it.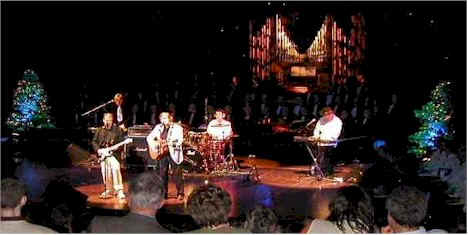 Con & Dec Onstage at The Queen Elizabeth Hall,
London, with their Backing Band
Plus the Treorchy Male Choir
Con, Dame Vera Lynne,
Elaine Page, and Dec

John Bardon (Eastenders ) Con & Dec
and Brian Murphy (Last of the Summer Wine)

Dec, Ian Lavender, & Con

The Assembled Company
Dec with King Rat Chas McDevitt,
and John Brown of 'Fender' presenting
Joe Brown with a guitar -
pictured at Lakeside Club

Dec & Victoria with Carl from Madness
at the Water Rats Ball,
Grosvenor House, London
John Brown of Fender Guitars
with Dec and Con
at 'The Bachelors' show in Eastbourne.
Con is holding the signed Fender
which is to be auctioned
for Lady Sheila Butlins' Charity, Cancer Relief.
Con's Golf Team win 1st prize
at Brancepeth Park -
another great charity day.

Con filming at home for
Yorkshire TV Programme
about Batley Variety Club.
Con with the
famous
Ryder Cup

Con at St. Pierre Golf Club
with Robbie Williams' Dad,
Pete Conway, and Johnny Lees
from Emerdale.
Dr. Jim Marshall O.B.E.
celebrating his birthday
with Con & Dec
Con & Dec with their 'Marshall Stack'
Dr. Jim Marshall O.B.E.
cuts his Birthday Cake
as Bert Weedon looks on.

Con with Chris Bisson
of Coronation Street and Special Olympic Gold Medallist
Kathy Davison at the Euro Construction
Charity Golf Classic in Lurgan,
Northern Ireland .
Robbie Williams' Mum and Dad
Jan & Pete Conway,
came to see Con & Dec
at Jollees Night Club in 1974!

Robbie's Dad, Pete Conway,
came to see Con again in 2003!