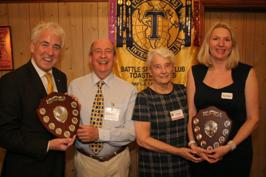 Dec winning at Battle Speakers Club.
He is now three competitions away
from World Championship of Public Speaking
finals in Kuala Lumpur.
Kerry Pearce, Little Roni, Billy Pearce,
Con and Con's son Phillip in Henry Boons,
Wakefield. Phillip was appearing with
Lou Golding who has just released a new album.

Con & Dec dropped into Wolstanton Golf Club
to wish Sheila Ferryhough a Happy Birthday.

Dec, singer Faith and Con.
Faith is a young 13 year old classical singer
who appeared with them at Beeston Victory Club.
Phillip Cluskey playing guitar
at Henry Boons in Wakefield
with Lou Golding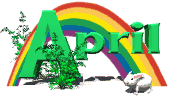 Review of MARCH 2014
Con & Dec had a chat with fellow
Water Rat John Lodge Bass Player
with The Moody Blues about their
recording days with Decca Records

Nicholas Parsons joined Dec and Con
for a drink at The Water Rats

Dec had a 'Play Off' against Derek Martin
from Eastenders at The Water Rats Dart Tournament
Dec came 2nd !!!!!!
Dec is presented with a Dart Board
by Past King Rat Roger De Courcy
which he won for coming 2nd at The Water Rats
Darts Competition held after their Lodge Meeting.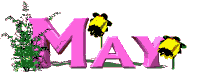 Review of APRIL 2014
Double Ivor Novello Award winning lyricist
Chris Difford joined Dec and Con
at their table for a 'chin wag' about music.
129th Anniversary
Gala Dinner

Con & Dec were asked to a 'Fund Raising' night
for Lewes Football Club in Lewes Town Hall.
They were asked to sing everybody's
favourite song 'I Believe'.

Con & Dec with ex servicemen Fred Glover
and Cyril Tasker who took part in the raid
known as 'A Bridge Too Far'.
Dec's daughter Victoria celebrated
her birthday with her family

Review of MAY 2014
Con & Kay had friends visit from Dublin.
Bert & Edna Cotter are childhood friends
and enjoyed a few days together.

Con enjoyed a Water Rats meeting
in Manchester surrounded by lots of friends.
Actor Ian Lavender back left, John Stokes, Comedians
Bernie Clifton & Freddie Davis back right.

Water Rat Stan Boardman had everybody in
stitches with his antics at
The Water Rats Northern Lodge

Review of JUNE 2014
Dec declares the Willingdon Village Fayre
at St. Mary's Church officially open
on Saturday 12th July

Dec with Serena Thompson
who organises the Fayre

Dec with Fr. Kevin Agnew Rector
of St. Mary's Church
Con arrives in style on The North Pier
in Blackpool for the Opening Night.

Some of Con & Dec's Apppreciation Society members
came to see the show on
The North Pier in Blackpool

Mel Wood from Millside Radio,
Nottingham interviewed Con & Dec at 'The Doghouse'
when they appeared there.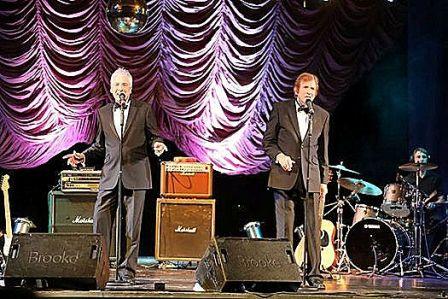 Dec and Con on stage at The North Pier, Blackpool.

Review of JULY 2014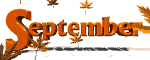 Review of AUGUST 2014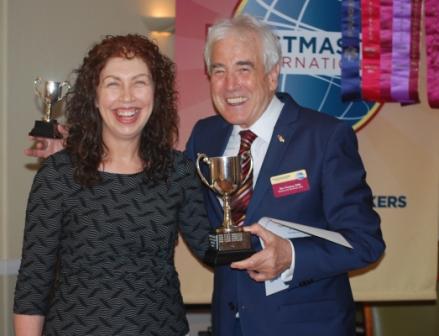 Wednesday 3rd September.... Winning again?
Dec wins the 'Table Topics' Competition
at 'Eastbourne Speakers'
- a Toastmasters International club. Here with Linda Hooper, his dear Toastie friend, at The Lansdowne Hotel,
Eastbourne. He is now representing the club in
the Table Topics and Humorous Speaking competitions at the Toastmasters International Area Finals ...
what an achievement?
Dec in Full Swing

Dec with his golfing partners ...
The legend that is Jess Conrad [did I really say that?]
John Virgo [the snooker supremo!]
Rocky Taylor [the Bond 007 stunt man genius!]
"The Gang" ... all supporting Essex Air Ambulance ... spot the Faces?
Roy Wood, Third from left,
with some of the Water Rats who dressed up
to greet him when he became a Water Rat
Stan Boardman andKenny Cantor joined Con
at The Water Rats. Stan was plugging
his new song for Christmas

Con with Roy Wood who has just joined The Water Rats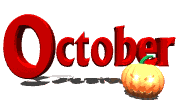 Review of SEPTEMBER 2014
Con went along to St. Patrick's School in Elland as a member of The Rotary Club, to distribute Rotary Shoe Boxes to the children there. The boxes will be filled with Christmas presents by the children and distributed to the needy.

Con met up with Boothby Graffoe the comedian when he went to watch him
with Roni Hart and his son Phillip (Little and Often)
and friend Jordon. Boothby was appearing at St. Georges Hall,
Bradford with Omid Djalili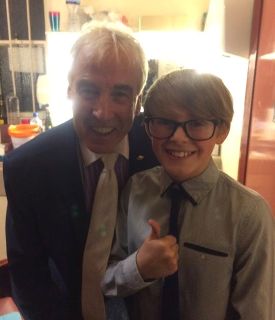 Dec and Tommy Rollason who was one
of the winners at 'Alfie's Talent Search'
run by Steve Hewlett at Hippodrome Theatre, Eastbourne.
Dec was chief judge and Tommy is
Water Rat Rollo Rollason's son
a great tiny ventriloquist talent!
Brochure Cover Pic.:
Dec with members of the Toastmasters Club
he founded with Meg Heyworth in 2006
... Eastbourne Speakers ...
now a rip roaring success as the place
to learn and practice the biggest fear in life,
Public Speaking.

Dec Guitar Finger:
Dec's studio is a dangerous place ... he ripped off a finger nail
playing guitar too viciously ....
but the musical results were sensational ...
and the blood?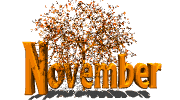 Review of OCTOBER 2014
"Dec joins Anita Harris and Paul James
for a picture at Langham Hotel in Eastbourne
... what a wonderful entertainment Anita provided
... from her 'Burlinton Berty' through to
her many Hits and her incredible years
with the 'Carry On' films"
Dec and his wife Sandy spent an afternoon
at Buckingham Palace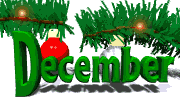 Review of NOVEMBER 2014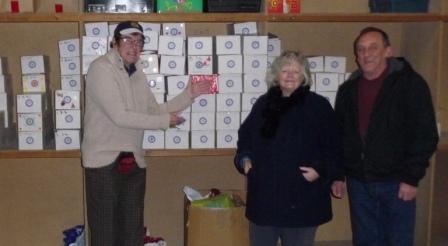 Con and Ingrid Holdsworth delivered some
of the Rotary Shoeboxes which had been
filled by pupils at St. Patrick's School in Elland.
The shoeboxes will bring Christmas Cheer
to poor children.