The Bachelors History 1962 1963 1964 1965 1966 1967 It Becomes a Blur! 1984 1985 1986 1993 2000 2001 2002 2003 2004 2005 2006 2007 2008 2009 2010 2011 2012 2013 2014 2015 2016 2017 2018 2019 2020 2021 2022 2023
PLEASE BE PATIENT - THERE ARE AN ENORMOUS AMOUNT OF
PICTURES/VIDEOS TO LOAD UP, SO MAY TAKE LONGER THAN NORMAL ...
WORTH THE MINUTE'S WAIT?
Con & Dec 'The Bachelors'
are
Still Going Strong!!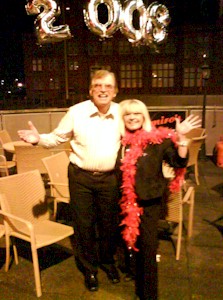 Dec's Wife Sandy and Con
Ring in the New Year in Cardiff
Con went to visit his friend Billy Pearce
and wife Kerry in Panto at
the Alhambra Theatre Bradford

Things went wrong as the Fire Brigades
came in answer to a False Alarm
at the Theatre

Phillip Cluskey copes brilliantly
as Sound Engineer with a very complicated
desk and Effects Rack
for the Panto 'Peter Pan'
at The Alhambra Theatre Bradford
Phillip tries on an Indian Wig
and tries it on with Leanne Fury!!

Kerry, Con and Phillip
out in the cold with two of the girls,
Kayti Clark and Leanne Fury

Con was evicted with two of the stars
of the show, Leanne Fury (Wendy Darling)
and Jodie Jackson (Tinkerbell)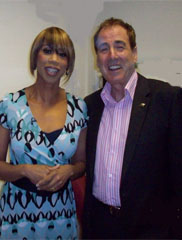 Trisha Goddard gets Dec to give his views
on Show Business, Fans,
over zealous fans and Stalking.
Dec and Granddaughter Layla

Layla's smile is infectious
You catch it like the flu
Layla smiled at me today,
And I just had to smile too
We're on our way ....
Where will we end up this time?

Dec Con Houston:
We eat well when we have a stop over
on a lengthy Plane journey
Brendan Shine and Ann Breen
who is the Irish Representative for Gertrude Byrne
in Ireland were Cruising with Con & Dec
and were also very popular on board
Holland-America MS Westerdam

Con and Dec look dwarfed
by the MS Westerdam
as they took a chance to go ashore
from their cruise.

Con & Dec with Dominic Kirwin one of Irelands
most popular singers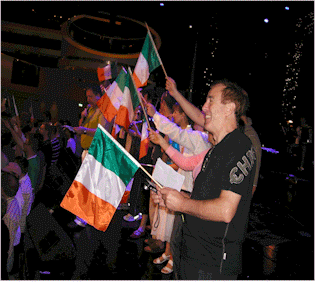 An Irish Flag Waving
Finale to the Show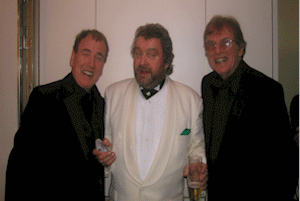 Irish Comedian Brendan Grace
had great Craic with Con & Dec
as they reminisced about shows
they had been on together including
'3-2-1'
'O' from Mac & O with Con and Mary Darcy

Dec enjoys being a 'Tourist'
as he explores The Bahamas

We certainly dined well
on our Caribbean Cruise
Rocking the night away at The Kerryman

Serious Stuff Irish Music !!

Vicci Strutting Her Stuff

Con & Dec in Full Flow
A gathering of 'Stars' at Water Rat Udo Fontaine's Birthday Party held at
Bob Potters Lakeside Club.

L to R Dec and Victoria,
with Water Rats Keith Simmons,
ventriloquist genius Neville King
and Bryan Burdon.

Dr. Jim Marshall OBE at Udo's Party.
The old boy defies everybody.....
Doesn't he look well? -
the legend that is Jim Marshall
with Dec and Victoria

Dec with Bob Potter:

Dec with the legend, Bob Potter,

the owner of Lakeside Country Club

the home of British Darts Competitions
The proud Grandfather....
Dec and Layla [10 months]

Dec in Prague ...
Capital of The Czech Republic

Dec Comes Second:
Dec is awarded as Second in South of England ...
The Toastmaster's International Speaking Contest
A welcome revisit to Pontins
in Blackpool for Con & Dec

Our Tour of Scotland - SOLD OUT.

Can't wait to go back!!

Members of the Fan Club
who came to see Con & Dec
in Christchurch.
Con at the monument
where Pope John Paul 2nd
said Mass in Spain

>

Con takes a quick Boat Trip
in Ria de Vigo, Spain.

Con on a pilgrimage
to the Cathedral at Santiago in Spain
where St James is reputed
to be buried.
Con walked from Spain across
the bridge to Portugal
for the fun of it!!

Dec and Con
with New Baby Rat
Songwriter Gerard Kenny

A group of Con & Dec's Fans
came to see them at Emsworth
Happy New Year
Ring in the New Year and wish Everybody
a Happy Healthy and Prosperous 2009