Con & Dec, The Bachelors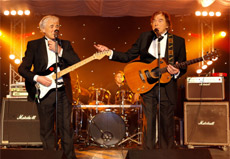 East of England Showground 2013 with 3,000 screaming audience!
What do Con & Dec 'The Bachelors' do ?
'The Bachelors' Con & Dec, take you, your Mum and Dad, plus your Gran and Grandad on a fun nostalgic musical trip through the past 50 years - - - Yes you will remember all the words!!
Con & Dec 'The Bachelors' also tell The Real Stories in our Hilarious 'Lunch' or 'After Dinner Speeches'.
Where do Con & Dec 'The Bachelors' do it ?
Anywhere, from a Cruise Ship, Stadium, Theatre, Marquee, such as at Huddersfield Golf Club Centenary Celebrations, to Millwall Football Stadium, celebrating The Queen Mother's 100th Birthday - to the 'Ed Sullivan' TV show! The Palladium, Wembley, Earl's Court. And we just love those private birthday parties and then the Wedding anniversary private 'Do's'?
How do Con & Dec 'The Bachelors' do it ?
We supply EVERYTHING, the sound equipment, the lights, the glitz, the show - plus - the disco - (if you fancy a 'bop') - and - the atmosphere -- you just supply the electricity.
Why do Con & Dec 'The Bachelors' do it ?
We love 'The Business', the buzz, and most of all the joy of bringing you the Best in Entertainment !! The two of us and the band plus crew just love every second of every show and concert.
Con & Dec The Bachelors
The Original Guys who made all The Bachelors' hits.
Email: info@noelgee.co.uk
Standing Ovations - a Natural Occurrence
DISCLAIMER: Please note that this is a historical site for reference only. This site does not purport to be a promotion of Dec Cluskey and Con Cluskey as 'The Bachelors'. Con and Dec [who recorded every Bachelors' Hit] are familiarly and legally known as Con and Dec The Bachelors.