Con & Dec The Bachelors
The Original Group.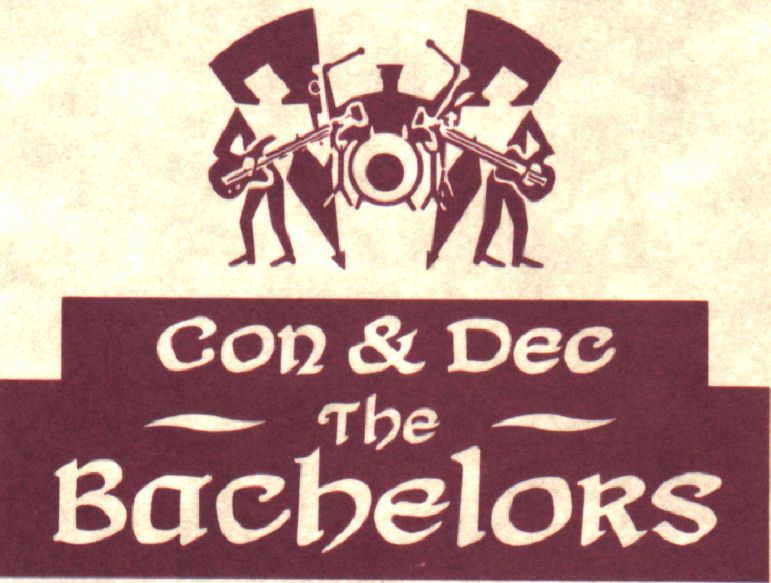 Con & Dec 'The Bachelors' Biography
Hey!
What an honour...you WANT A BIOG. FROM Con & Dec 'The Bachelors'.
Put it to good use....
You will tell from these few words that we look forward - all our career.
50 years at 'The Top' of their profession and still going strong!
These Dublin Lads are celebrating over 50th year in Showbusiness. Yep, we started in short pants ... honest. Recently we released a Swing Album ['Swinging Bachelors'], an Irish Album [Irish Songs - the way we sing 'em] posed almost naked for a Charity Calendar, and released a track on the Water Rats Compilation Album called 'The Gathering'. In recent years we have had TWO Gold Albums ... been at Number 5 in the Radio One Album chart and number 6 in the 'Value' charts, and Number 2 in The Irish Charts, outselling U2.
We have just completed our 77th album [Stripped Down Bachelors] which is due for release any day now in 2017.
So you see, we are still making headlines around the World. Brothers Con and Dec Cluskey, founder members of The Bachelors, were the first of the 'Irish Boy Bands' to invade Britain's shores in 1962. We took on the might of British Groups and even managed to outsell 'The Beatles' in 1964 and 1965.
What have we done recently?
We have been all over the TV with our hit album which was No. 5 in The Album Charts. Starred in our own show at The North Pier Blackpool.... Played New York for a fantastic 'Doo-Wop' weekend. Played three weeks at the Opera House Blackpool. Played for Jim Marshall's birthday [and attended his tribute night RIP] ….yep, he supplied the famous wall of Marshall Stacks…loud? Yes! Played The Festival Hall in London for a unique choral concert and had the 200 strong Treorchy Male Voice Choir to back us….. playing in Spain at La Manga ... the Internationally famous golf Resort. And yet another major choral concert...can't wait! I've just written the music parts for them.
"The past? Who cares, we've already been there".
Con was President of Elland Rotary Club in Yorkshire as you read this and Dec is hosting the biggest Songwriters Web Site on the Internet.... makehits.co.uk whilst helping writers, now in 52 countries, to fulfill their dreams of having a Hit Record...and who better to advise?
FREE '4 Minutes on the Net With Dec' Email blog each week just by Emailing dec@makehits.co.uk with minute-subscribe in the title line...simple! Or click on http:www.makehits.com/popup1.htm
Con and Dec work hard at dreaming up new and inventive ways of giving you the best ......we look to the future....as you will always hear us say: "all the good things are up-stream."
Can

'The Bachelors'

Tell Stories
?
Yes! We have appeared with almost every Show Biz legend in the world, from Judy Garland through to 'Ant and Dec', and Dec will tell you the story about how he got Christened....he is the only other Dec in the world. Tom Jones, Engelbert, Sammy Davis Jnr., Bob Hope, Morecambe and Wise, Tommy Cooper, Tony Bennett, Cliff, The Beatles, and even The Pope, we've shared a stage somewhere in the world at sometime with them all. Des O'Connor, Tom O'Connor - Brian Murphy, Glen Murphy. Cilla's first big show? Lulu's first big TV.....where did Freddie Starr get his big break? Bobby Davro? Yes, we knew them all, know them all, and boy, can we tell the stories?
In fact we did that recently when we did a 2 hour show to celebrate the 90th Anniversary of the Risby WI.
From 'Ready, Steady, Go' through to 'Eastenders', everyone has a tale to tell about 'Con and Dec'.
The Bachelors
The Original 60's Group.
The Musicians
Yes, 'The Bachelors' got to work with the cream of the music industry...Clem Cattini, Ronnie Verrel, Andy White on drums......on bass: Frank Clarke, Lenny Bush, Dave Richmond, and the nutter himself, Herbie Flowers...he played with 'Blue Mink'....and he is proud (the only one proud) that he wrote 'Grandad'....in the guitar department we had the complete legends: Jimmy Page (Led Zeppelin), Big-Jim Sullivan (Tom Jones), Eric Ford, Brian Daly, Judd Proctor.....Remind me to tell you about the time I sacked John Paul-Jones off one of our sessions! Yes, he who became the bass playing giant of 'Led Zeppelin'. He was completely unsuited for the job with us....it was like asking Jools Holland to play 'God Save the Queen' ! Jimmy Page did okay...after Jim Sullivan and I showed him how to play an 'E7th with a flattened ninth' chord !!!
Happy days!
The Bachelors
The Original 60's Group.
'Where 'The Bachelors' Were'
Con and me and de odder fella!
My mum was not too pleased when I gave up a position in the Chief Civil Engineer's Department of C.I.E. (the Irish equivalent of B.R.) to have a go at the music industry in the UK. I had read Civil Engineering and this was my first (and last) 'proper' job. Yes, we had a fantastically successful career playing mouth-organs (ok, don't laugh) since I was twelve! First TV show we did was the famed Ed Sullivan Show on U.S. television. Not bad for the first one! the biggest in the world at the time. Then we appeared on the opening night of Irish Television....great honour.
We wrote and arranged the music for a 26 week series on Irish national radio....for Eamonn Andrews' Radio Company, as it happens....became a lifelong friend. And we've got the 'red book' ['This is Your Life'] to prove it.
Tried the 'big time' in the UK for a few days...'Opportunity Knocks'....what a flop! Then tried it for four weeks....boy, was my head teacher miffed when I disappeared for that length of time!!!
Then the big step:
We heard whispers that a big 'London' agent was interested in us...Philip Solomon, he discovered Bridie Gallagher, Ruby Murray, Lena Zavaroni, Pam Ayres, Frank Carson, Van Morrison ...list is endless... (sadly passed away just over a year ago)....at that time wanted us to tour with Nina and Frederick ('Little Donkey', remember?) for five weeks.....great.
So 'The Bachelors' ended up in England:
After the five weeks? Broke, forlorn, homesick, destitute......
Never told Mum (she would have been livid!). Of course John Stokes (the non-brother in the outfit) disappeared back to Ireland (as he was to do every time there was any problem!). John was a carpenter, so no problem picking up work where he left off....Con and I, different kettle of fish! In fact the Employment Exchange were in hoots of laughter when I went to them for employment....they could not believe I was serious....with my education and qualifications?
Coincidence?
You find out that the landlady knows a guy called Frank White...who just happens to be a relation of your father??? Uncanny or what? Quick phone call. "Leave it with me for an hour". Sure enough we got to see him and blow me...we were up and running....Three shows for that week-end....First, call Mum...we needed our guitars, double bass and amplifier, double quick! Should we call John, get him back from Ireland? Yes/No?, Yes/No?.....oh, all right then, toss the coin.....
Arbroath Summer Season:
Ended up a few months later in a Summer Season in Arbroath, Scotland. Salary? £57.50 for three of us per week....I couldn't give a toss...I wasn't married, no responsibilities, but Con and John...whoops!! We were doing our Karl Denver impression every night...well, not so much Karl Denver as three Frank Ifields.
Who arrived to see us?
The famous or infamous Dick Rowe...the boss of Decca. Famous for turning down 'The Beatles'....however he discovered, not only us, but Vera Lynn, Mantovani, Tom Jones (with a little help from meeeself...I'll tell you about it sometime), Engelbert, 'The Stones'....goes on forever! Incidentally Dick's son, Richard Rowe was the Supremo of 'Sony Publishing' world-wide...how about that? Operated from Madison Avenue.I bumped into him at an Art Exhibition in the West End recently.
Dick was certainly not impressed!
"Oh, by the way, try 'Charmaine', Karl has turned that song down, but I know it's a hit!" How about that for a parting line from Dick?
The lucky break for 'The Bachelors':
Next morning we were rehearsing at the theatre (oh, okay, it was just a church hall), "Let's sing 'Marcheta'". Half way through, a figure appeared from the shadows. "Why the heck didn't you sing that last night when I came to see you?". "But, but, but Mr Rowe....ehhhhh." "You're just damn lucky I had to come here this morning to catch my taxi to the station". "I'll see you at Decca Studios in two weeks time, Sunday...I'll let Philip have the details"...........Wheehhhh.......
The Audition Session:
"Come on guys, give it a rest, it's not going to get any better" "When did you eat last?" "Oh, Mr Raymonde (later to become a close friend, Ivor) you're not going to catch US out that easy...we KNOW that we shouldn't eat". "WHAAAATTTT?" That Cafe was bliss...that breakfast. WOW! If I close my eyes I can still smell the fried bread. Okay I can smell the tramp sitting beside me as well!
Back to Scotland: "How did it go?" "Don't ask."
Sitting in London:
In a borrowed flat....freezing, broken hearted....yes, John had b*ggered off again....Con and I shared our last bag of porridge........
Philip called. "If anyone asks you....you are a 'country and western' group". He had set up a meet with Shel Talmy and Mike Stone (who were to become one of the great driving forces in British Pop Record Production). They were predicting that C&W would be the next huge phenomenon in the UK. This was IMMEDIATELY pre 'Beatles'. They loved us...and we loved them.....they spoke our language as regards music, recording, harmony.....we just loved every second of their company!
The session was a luscious dream....like a game of tennis........
The Bachelors
The Original 60's Group.
'The Bachelors' First Hit:
What did it feel like standing in Philip's flat in Park Lane, London, listening to the acetate pressing of our first proper recording? Can you imagine? Did you ever get that hair on the back of your neck stand on end...did you ever have a welling up in your eyes with sheer excitement....did you ever just stand silent in disbelief? That numbness....IT WAS ALL OF THAT...AND THEN SOME MORE......
Okay, we had a huge hit....19 weeks in the top twenty...longest for that year....AND CON AND I STILL SING IT EVERY TIME WE APPEAR ON STAGE......
'The Bachelors' Christmas Song Fiasco:
We then wrote a Christmas song. "Oh My Gaaaaawwwd". Dismal, undiluted, abysmal failure....it wasn't released....it escaped! I think I personally have got more copies than were ever bought. Still get royalties though.....
Dick Rowe: "Now do you understand, boys, stick to what I say...just record 'oldies'."
Mick Jagger:
He said the same to Mick Jagger one day at Top of the Pops.....we were chatting in our dressing room. Mick's reply? "F*** *ff, Dick"....Whaaaattt? "Mick just told Dick to.....Did you hear that?" (I hope that story doesn't offend! I should be president of the anti-bad language society...but Hey, it's just a true story.)
A Meteoric Rise To Stardom:
We made two films, (singing 'Stars will Remember' in one and 'He's Got the Whole World in his Hands' in 'He's Got a Horse' with Billy Fury, we were directed by our fantastic choreographer and life-time friend, Ross Taylor) back to back...TV series, TV appearances coming out of our ears! We played 'Top of the Pops' so many times that we had our own wardrobe department at BBC...TRUE!!!
Why did 'The Bachelors' part company with John? "well...long story really...."
I like John Stokes...see him quite often, at various charity functions or at Lodge...he is a 'Water Rat', as is Con.
You see, every partnership in music always seems to have two guys who do it all....Hank and Bruce....were always 'The Shadows'...then Rick Parfitt and Francis Rossi....who were the other guys in 'Status Quo'? Who can remember?
Just a fact of life....A bus has always got a driver, conductor and a lot of passengers!
In 'The Bachelors' early days Con was the one with the voice, I was the one with the ideas, John was the one with the newspaper! A great pal and fun to be around. Con and I always wish him the best of luck in everything that he attempts. Sadly he breaks the laws of this great country every time he attempts to present a 'Bachelors' presentation ... he is forbidden by a High Court Undertaking which he signed. Why does he do it? Who can tell .... a law breaker?
The Bachelors
The Original 60's Group.
Where We Are
Touring, touring....and then more touring....missing our families when we are away from home. Con misses Kay, his childhood sweetheart and still his wife and mother to Carole, Greg, Michael and Phillip.
I am lost, on tour, without Sandy, my lifetime partner and best friend, my kids (no matter how old, they are still kids!) Victoria, Oliver and Louisa. Home with our families is our 'Heaven'.
'The Bachelors' Concert Tours:
Of course, when Con and I do our Concert tours we still have to play all the favourite 'toons', but we present them in a unique 'today' digital way...so you hear precisely what we all meant you to hear in the first place....Make sense?
Our latest Top Five album has a lot of 'new' material on there ... recorded on Pro Tools .. giving us all the 21st century technology. Our next, 'Swinging Bachelors' will thrill ll those who hear it and buy it .... check it out.
The great honours we have thrust upon us. Headlining at Millwall Football Ground to celebrate the Queen Mum's 100th. birthday. Starring in the 'Howard Keel Golf Classic' Cabaret with Johnny Mathis and Howard Keel himself! FOUR standing ovations in twenty minutes!!!!! Appearing at The Waterfront in Belfast.... The Opera House Blackpool...... Earls Court, Bournemouth International Centre ... WOW!!
The fun we both have traveling around the World...it's a doddle ....and we get paid for it! We get to see exciting places, meet lovely people, sing a few songs and smile at the Bank Manager. Who could ask for anything better?
Recording:
At time of writing, our 77th. album. 608 tracks to date? Did we ever think we would get this far? And the equipment available today just makes us sound better and better. We start on our next two albums shortly.
The Variety Club Golfing Society:
Now that involves us with the tear jerking presentations of Sunshine Coaches to less fortunate kids. Just to see those little faces when they see their brand new, gleaming, pale blue coach, fitted with the latest technology hoists and fixtures...well, it just makes you well up.
The Bachelors
The Original 60's Group.
Where 'The Bachelors' Will Be
Our goal is to be at the very pinnacle of our skills in the year 2020.
Recording In The Future?
We will use every bit of tomorrow's digital technology to enhance and improve the fantastic sounds that Con and I always make and we produce the most exciting harmonies and vocal tricks.....CON'S VOICE IS A TOTAL JOY TO WORK WITH.....SUCH POWER, SUCH GENUINE EMOTION.
The Big Question 'The Bachelors' Get Asked All The Time?
When are you going to retire? Answer: I will retire five years after I die. You see, Con and I don't work....what we do is not work...what we do is what we enjoy doing and we happen to get paid for it. Think of Jack Nicklaus, the great golfer....does he work? Has he ever worked? Ask Richard Branson if he works? I just know the answer he will give.
Con And Rotary:
Con devotes more and more time to his great love: Rotary Club International. It's called, really, giving back a bit of what you receive. With the Young Enterprise Scheme he helps young people to achieve, and considers it an honour to spend his future time showing them how he developed his performing skills, his business skills and his 'just being nice' skills. He teaches them: 'ATTITUDE'.
Con And Dec 'The Bachelors'...Water Rats:
We are both keen members of 'The Grand Order of Water Rats'. I am lucky enough to have been honoured as 'King Rat' and now am fantastically honoured to be a Grand Councillor of the Order and most important of all to have been a TRUSTEE for twenty years, that is having overall financial responsibility for the running of the most prestigious and respected Show Business Charity in the World....Wheeeehhhh! What an honour from my fellow show-business pals, Joe Pasquale, Michael Crawford, Bruce Forsyth, Mike Batt, Jimmy Tarbuck, Roy Walker, Rick Wakeman, Engelbert Humperdinck, Bryan May, Prince Charles, Prince Philip, Prince Michael, to name just a few!

Dec and Toastmasters International
Dec has been involved with this, the biggest Speaking Organisation in the world ... advised to join by the speaking giant Jim Rohn RIP. He has been awarded the highest speaking award from that organisation and assists the Princes Trust in the UK with his phenomenal workshops to make kids able to speak in public ... so worthwhile.
See Dec in action CLICK HERE.
"Helping Young People In Need"
This is our own way of collecting money so that we can personally help and distribute that money to deserving young people. As a Trustee of the Water Rats I saw deserving young people who need funding for an exciting project or an exciting career who just don't meet the requirements of The Water Rats. So I can identify those and sometimes we are able to help them.....BIG TIME!
Hindsight?
Wonderful thing....ask me if there is anything I regret in our career and I will answer: "Of course, taking Dick's advice and not writing as much as I should." I started writing seriously far too late in my career, now I advise everyone to WRITE, WRITE, WRITE! I even run my own organisation to encourage young writers (and old ones).
I am really proud of my "Serious Writers Guild" and "Serious Performers Guild", , in the UK call 01323.728005. Or Email dec@makehits.com All who get involved just seem to have massive success! www.makehits.co.uk One guy sold 100,000 of his first album! TRUE!!!
Regards
Dec
[ DEC CLUSKEY ]
'Con and Dec, The Bachelors'
are
Con Cluskey and Dec Cluskey
Contacts